HERE'S WHAT YOU GET
PRE
100mg of naturally occurring caffeine
Mix of carbohydrates and MCT to fuel your training
Each serving contains 100mg of naturally occurring caffeine from Green Tea and Yerba Mate. Together these two ingredients help increase aerobic & anaerobic capacity while energizing your training and keeping you focused in the zone.
POST
58g of Carbohydrates
20g of non-GMO Whey & Casein
2g of L-Glutamine
Developed to help you recover and come back stronger, each serving is packed with 58g of net carbohydrates, 20g of grass-fed protein, and a well balanced serving of electrolytes, vitamins, and amino acids to rebuild and refuel your muscles.
MULTI 2.0
60 Servings
15 Essential Vitamins and Minerals
5mg of BioPerine
MULTI 2.0 is formulated with 15 essential vitamins and minerals to improve athletic performance, increase energy, support cardiovascular systems, and strengthen your immune system.
GUT HEALTH
60 Veggie Capsules
7 Strains of Probiotics including Soil Based Organisms
Our GUT Health contains 7 strain spore forming probiotics from soil based organisms that specifically work to seed and sprout healthy bacteria in your microbiome to support healthy gut flora, boost the immune system, improve digestion, and utilize body functions.
FEATURES
Zero artificial flavoring, colors or sweeteners
Gluten-free, Soy-free
Non-GMO
Customer Reviews
Write a Review
Ask a Question
04/07/2021
Herman B.
Clinton Township, Michigan, United States
Good product
Overall the product seems legit, and I will continue to use it for now. The flavors are good, no complaints there. My only gripe really is the Pre and Post don't break down in the blender bottle well, and you end up drinking small chunks of the stuff. I'm sure there's a more effective way to granulate it for better solubility. I don't use cold water, always either room temperature, or cold almond milk, but that chunkiness definitely is offsetting. I will probably try a different flavor next time besides the Raz and Chocolate to see if there is a difference.
ATH
Thanks for the feedback Herman. Taking it back to the dev team and seeing what we can make better.
03/13/2021
Eva
Kapolei, Hawaii, United States
Best Purchase Ever
If you're like me, starting your year of health, this is the prefect starter kit for you. PRE: I have the POG flavor... tastes really good. Definitely does not give you the jitters as other products do. Your mental focus and energy however will be on point. My workouts **** without PRE. POST: Great way to build muscles. I felt less sore and muscle aches after taking POST. Great tasting as well. Gut Health: Makes me feel less bloated and gassy. Multi-: Multi- helped me stop taking my other iron supplement. I feel good knowing I'm getting what I need to be at my best. Shaker bottle- I've had a lot. This one doesn't leak and love the logo. I definitely will reorder this bundle... probably even subscribe monthly. Wish I had this in my college wrestling and judo days. This definitely would've elevated me to the next level.
ATH
Awesome in-depth feedback Eva!
11/04/2020
lance
Mililani Town, Hawaii, United States
Great
Been looking round for some really good me clean supplements and thought I'd take a chance on ATH by some reading and reviews. Thankfully the chance was worth it! Great taste and great customer service, will continue my journey on ATH products. Mahalo
ATH
Thanks for giving us a shot Lance!
09/08/2020
Kelly
Gilbert, Arizona, United States
Legit.
I had this super great idea one time. You see, I have been a runner for a few years and fell off the wagon for a long minute. So, my grand idea was to get up and GO. It was in July- in Arizona. After a few weeks of getting back in the groove and not dying on the hot asphalt- I was on a mission and I needed more. So, now I'm training for a half marathon like a crazy person. I have always been on a good supplement regimen but after falling off the wagon I seemed to have forgotten the importance. I googled. I read reviews. I googled more. I found Ath and will never google again. I love the flavor, I love the ingredients and most of all I love the outcome. I no longer feel lethargic on my long run days. The product is legit.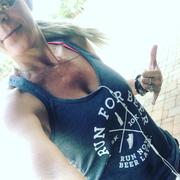 ATH
This is so awesome Kelly! Happy you found us and gave us a shot! Welcome to the FAM!
05/26/2020
Jade B.
Queens, New York, United States
You Had Me At ATH
I am loving these products so far. The starter kit is great. I appreciate how refreshing everything tastes and, and it doesn't feel artificial compared to a few other protein powders I have had. The overall kit, gives me enduring energy that lasts throughout the day. I like what I am seeing so far. ☺️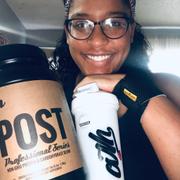 ATH
Stoked to hear Jade! Just posted your review to Twitter and Facebook we loved it so much!
---
ADD A
STEALTH / BLUE RAZ / COCOA