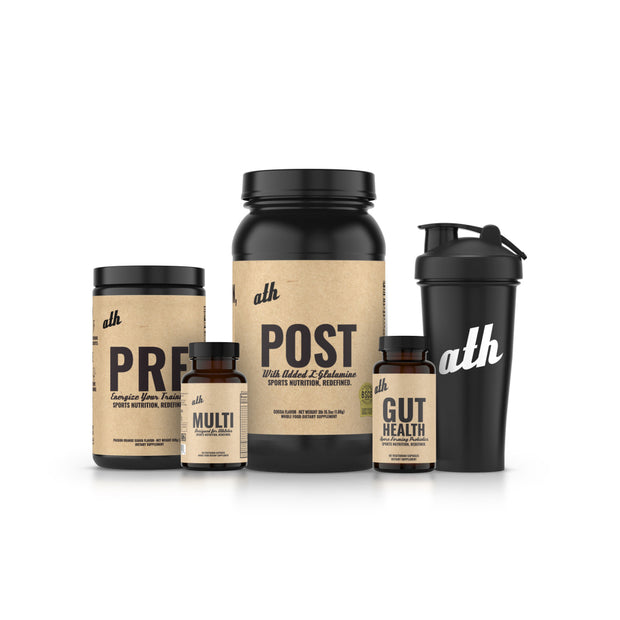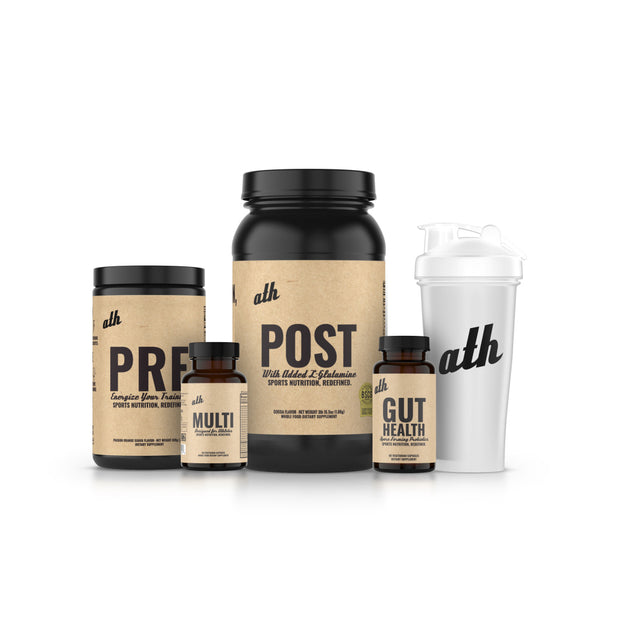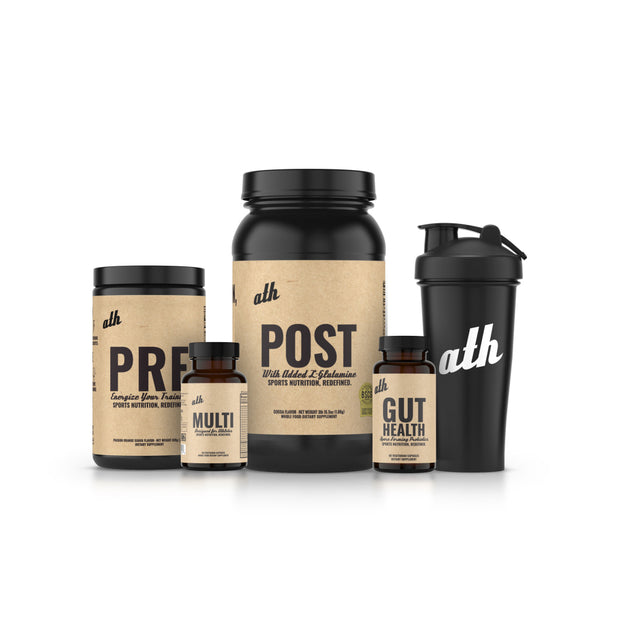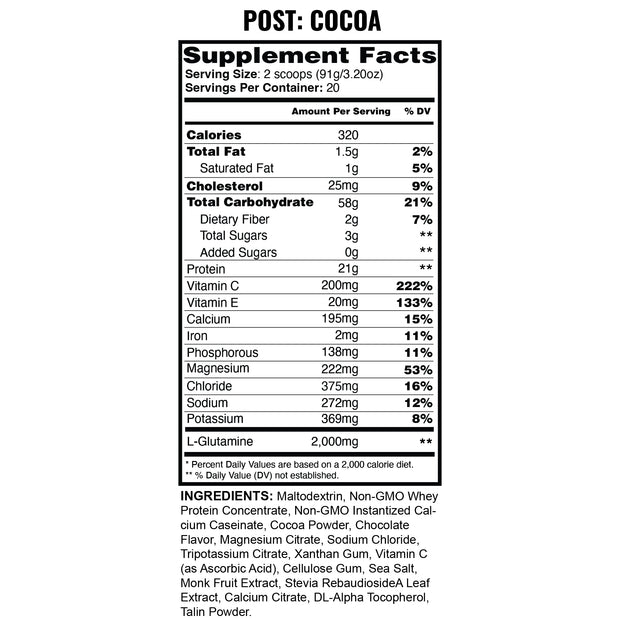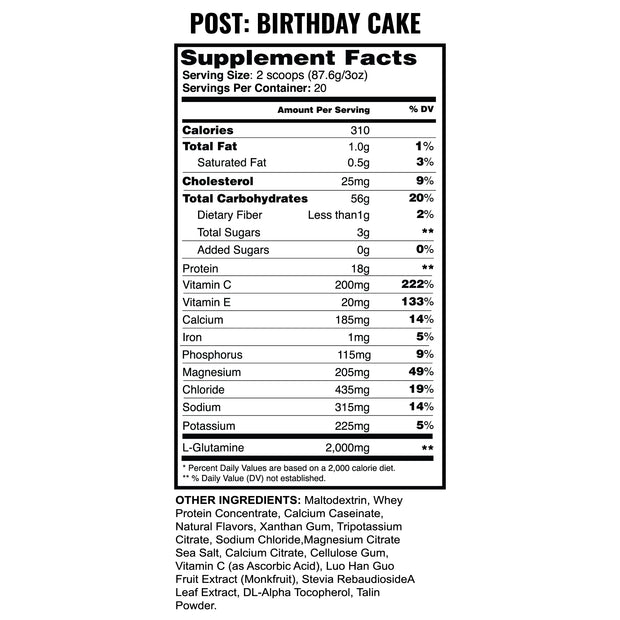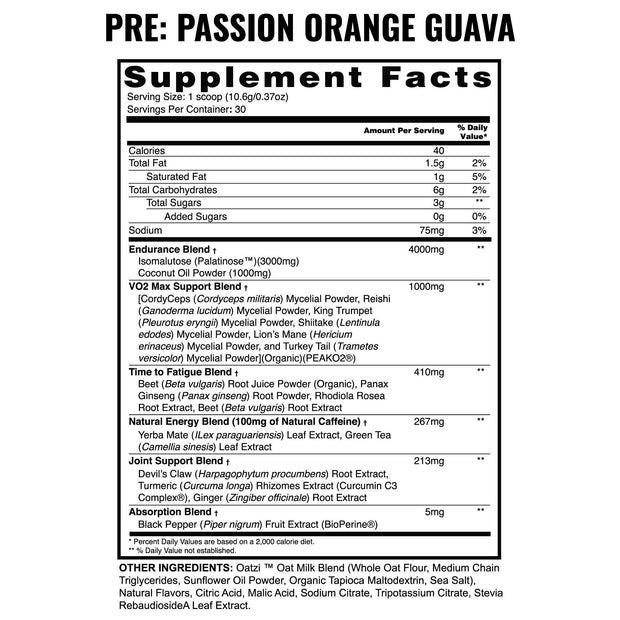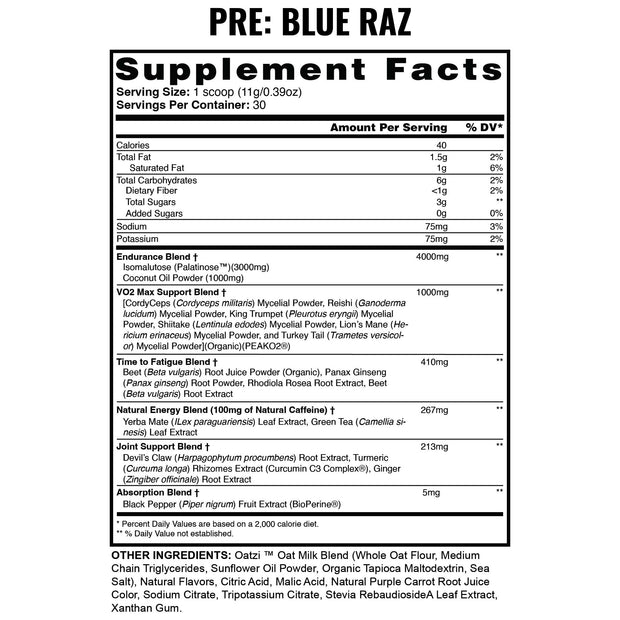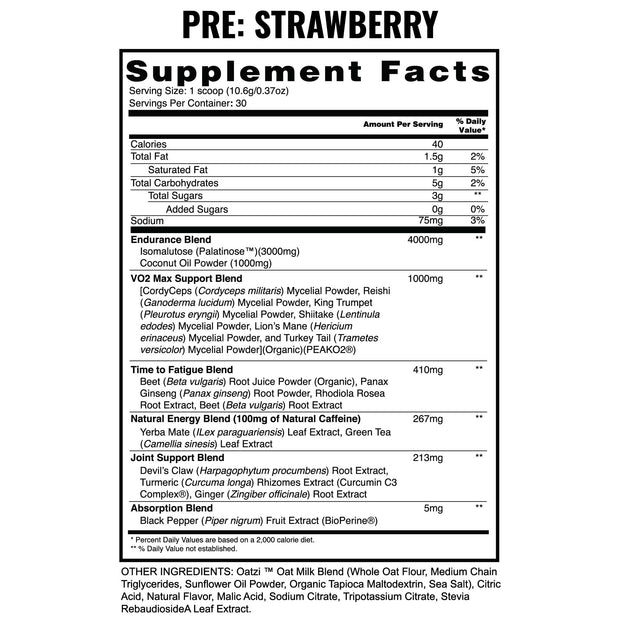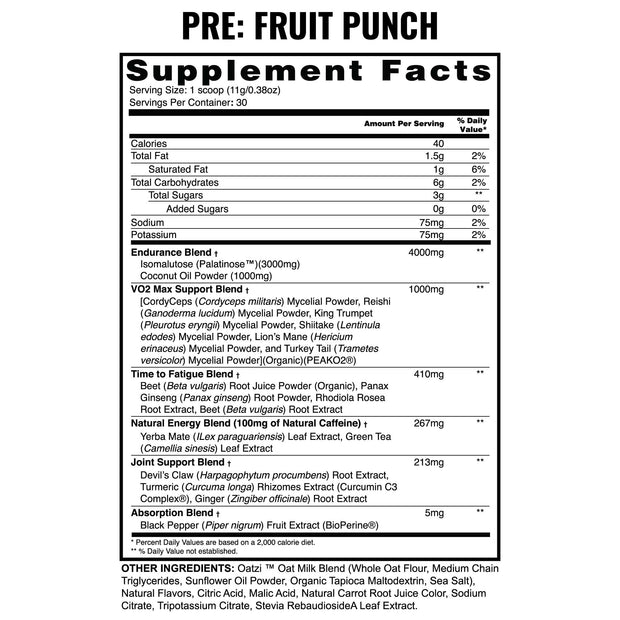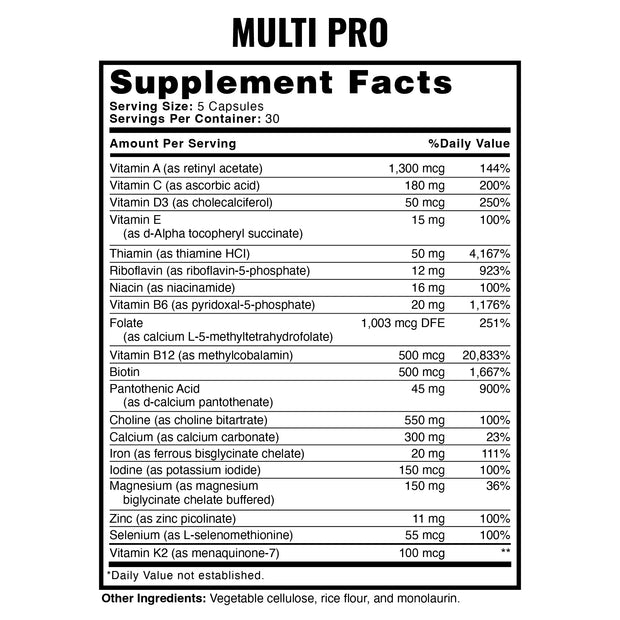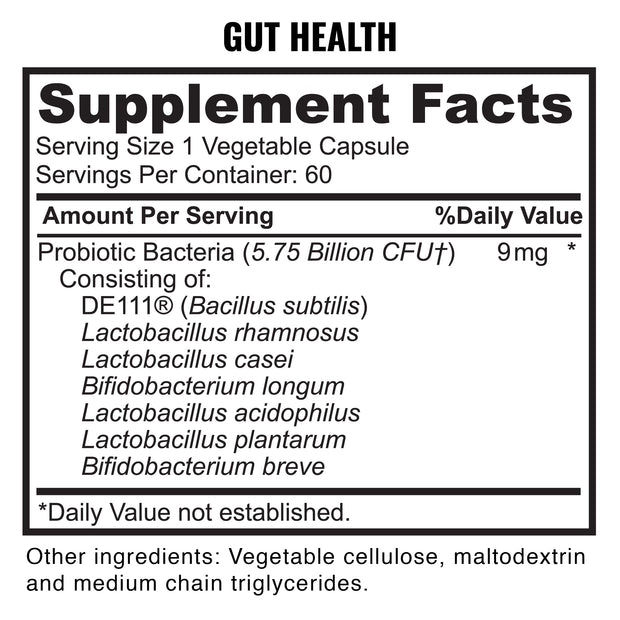 Whether you're new to supplements or stick to the basics, the Starter Bundle gives you a solid foundation to build your training upon.
Our turmeric based PRE provides clean energy from natural sources. 100mg of natural caffeine from Green Tea and Yerba Mate support sustained energy to increase endurance and improve mental performance throughout training.
Gut Health uses probiotics from Soil Based Organisms like Bacillus subtilis, Lactobacillus, and Bifidobacterium probiotics to give you a comprehensive approach to improving your gut health by clearing out bad bacteria and leaving a healthy environment for new and beneficial bacteria to grow.
Multi is formulated with 15 essential vitamins and minerals to fill the gaps in your diet. These essential micronutrients support your immune, cognitive, and cardiovascular systems to improve athletic performance, increase energy, and keep you training.
Lastly, POST supports your recovery by restoring lost glycogen to help your muscles recover from intense training sessions. Designed with a 3:1 ratio of carbohydrates to protein, POST helps you recover smarter to keep you training.
Always natural, never artificial, and made with real ingredients, use the Starter Bundle to improve your training.
FEATURES
Grass-Fed, Non-GMO Protein
Growth Hormone Free, no rBGH or rBST
100mg of Clean Energy
15 Essential Vitamins and Minerals
Probiotics from Soil Based Organisms
Nothing Artificial

FAQ
GUT Health's 7 strain, spore forming probiotics work to strengthen your gut by supporting healthy gut flora, improving digestion, increasing nutrient absorption, and strengthening your overall immune system.
MULTI gives you 15 essential vitamins and minerals to improve your athletic performance, increase energy, support your cardiovascular system, and strengthen your immune system.
POST improves muscle recovery, rebuilds muscle tissue, and refuels muscle glycogen.
PRE was formulated to naturally energize your workouts, increase endurance, improve mental clarity, and provide clean, sustained energy to help you power through your workouts.
PRE improves oxygen utilization, reduces blood lactate levels, improves fat oxidation, increases metabolic functions, enhances physical capacity, increases time to fatigue, and supports joints by reducing inflammation.
MULTI: 1 serving per day.
GUT Health: 1-2 servings per day.
POST: 1-2 servings per day.
PRE: 1-2 servings per day.
Total 5 star reviews: 4
Total 4 star reviews: 1
Total 3 star reviews: 0
Total 2 star reviews: 0
Total 1 star reviews: 0
100%
would recommend this product
Customer-uploaded media carousel. Press left and right arrows to navigate. Press space or enter to open more details.
Slide 1 selected
JP

3 weeks ago

Amazing products

I just started taking the starter bundle last week Thursday and believe it or not it's amazing.from the multi-to the gut-pre and pro.I feel great before and after my workouts and eating.this bundle is perfect for someone who doesn't want to take something with High Stimulants.I highly recommend this bundle..go and get it🤙🏻the burn does not come with the starter bundle.

Kelly

2 years ago

Legit.

I had this super great idea one time. You see, I have been a runner for a few years and fell off the wagon for a long minute. So, my grand idea was to get up and GO. It was in July- in Arizona. After a few weeks of getting back in the groove and not dying on the hot asphalt- I was on a mission and I needed more. So, now I'm training for a half marathon like a crazy person. I have always been on a good supplement regimen but after falling off the wagon I seemed to have forgotten the importance. I googled. I read reviews. I googled more. I found Ath and will never google again. I love the flavor, I love the ingredients and most of all I love the outcome. I no longer feel lethargic on my long run days. The product is legit. 🤙🏼

A

ATH

2 years ago

This is so awesome Kelly! Happy you found us and gave us a shot! Welcome to the FAM!

Rochelle M.

3 years ago

Best Products Out There

I use all of these products every day. I searched for years to find good products to help with my workouts. Now that I have found Ath, I will be a forever customer. Tastes great, works wonders, and the best part is the natural ingredients. I love knowing that I'm putting something truly good into my body. Gut health is a life saver, I used to struggle with stomach pain and now I don't!

A

ATH

3 years ago

Stoked to hear you are liking the starter bundle Rochelle!

Eva

2 years ago

Best Purchase Ever

If you're like me, starting your year of health, this is the prefect starter kit for you.

PRE: I have the POG flavor... tastes really good. Definitely does not give you the jitters as other products do. Your mental focus and energy however will be on point. My workouts suck without PRE.

POST: Great way to build muscles. I felt less sore and muscle aches after taking POST. Great tasting as well.

Gut Health: Makes me feel less bloated and gassy.

Multi-: Multi- helped me stop taking my other iron supplement. I feel good knowing I'm getting what I need to be at my best.

Shaker bottle- I've had a lot. This one doesn't leak and love the logo.

I definitely will reorder this bundle... probably even subscribe monthly.

Wish I had this in my college wrestling and judo days. This definitely would've elevated me to the next level.

A

ATH

2 years ago

Awesome in-depth feedback Eva!

Herman B.

2 years ago

Good product

Overall the product seems legit, and I will continue to use it for now. The flavors are good, no complaints there. My only gripe really is the Pre and Post don't break down in the blender bottle well, and you end up drinking small chunks of the stuff. I'm sure there's a more effective way to granulate it for better solubility. I don't use cold water, always either room temperature, or cold almond milk, but that chunkiness definitely is offsetting. I will probably try a different flavor next time besides the Raz and Chocolate to see if there is a difference.
Reviews Loaded
Reviews Added
---
ADD A
BLACK / BLUE RAZ / COCOA