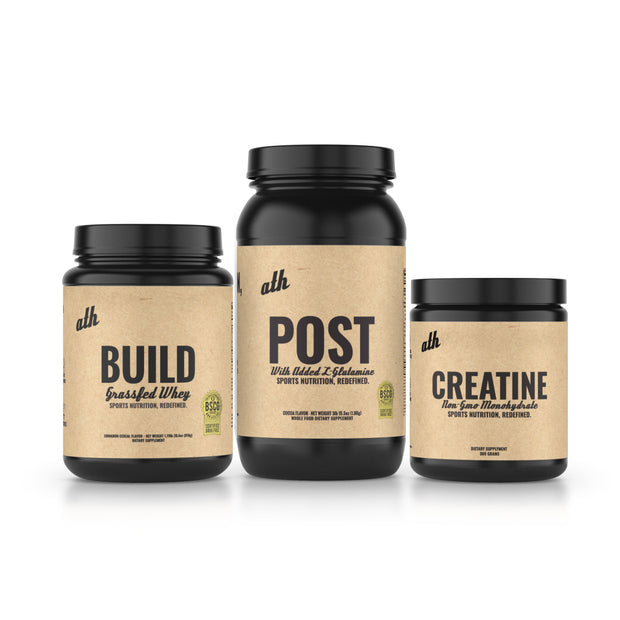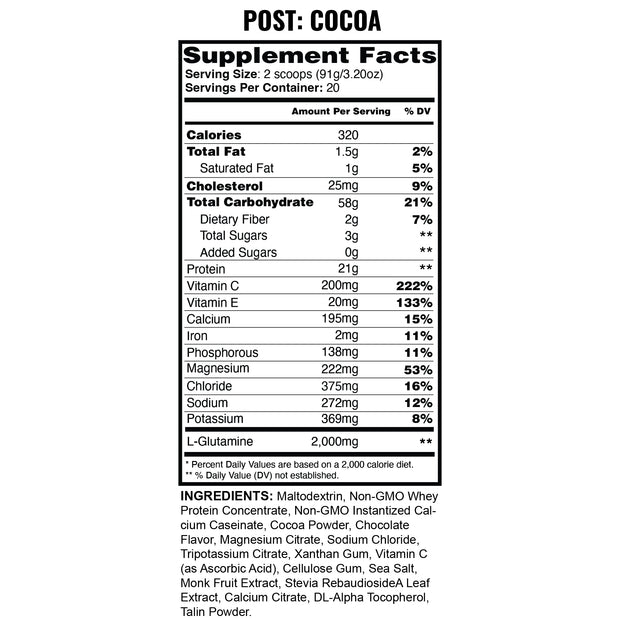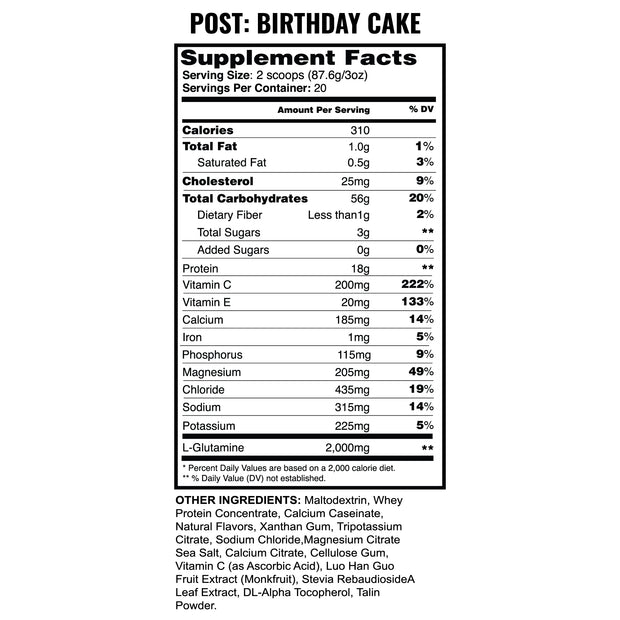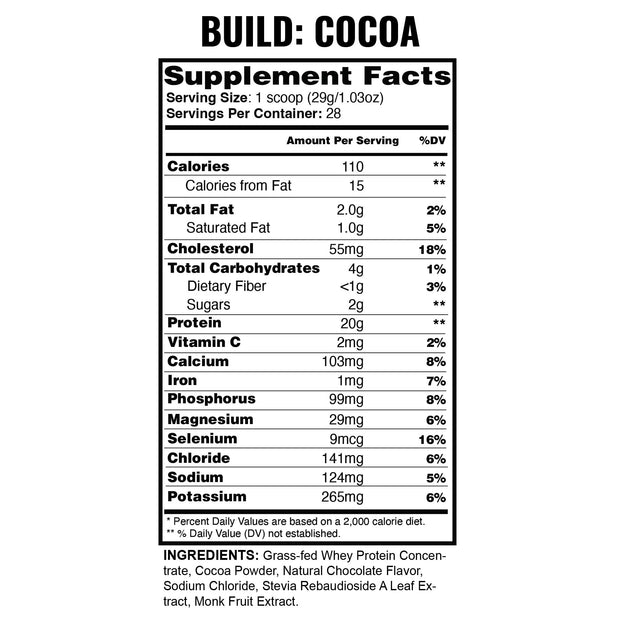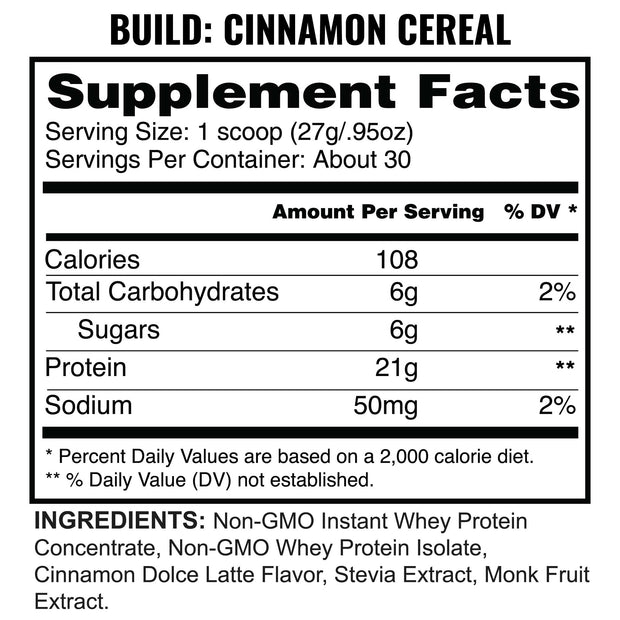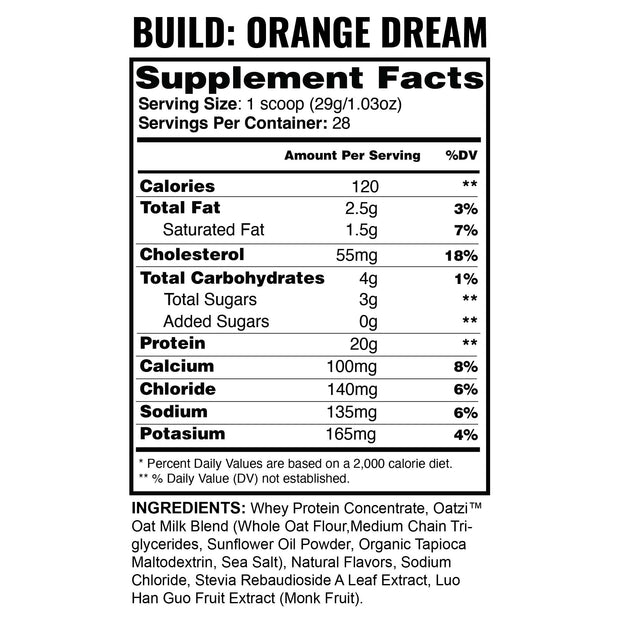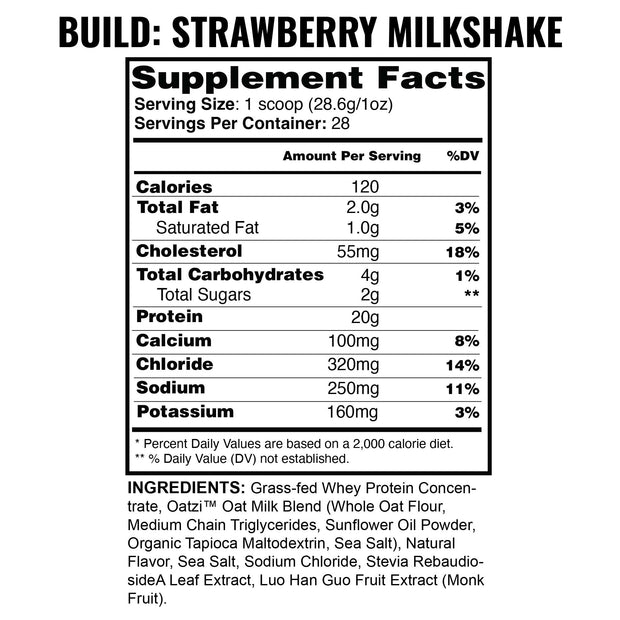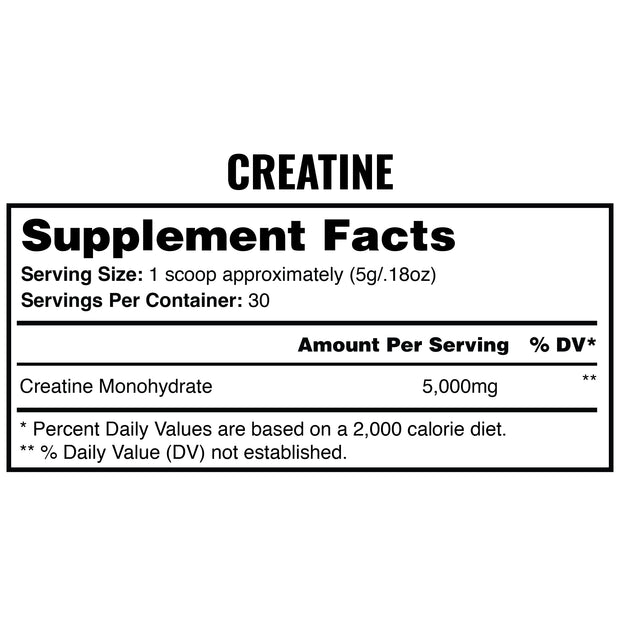 Packed with high quality grass-fed protein, fast digesting carbohydrates, and non-gmo creatine monohydrate, the Strength Bundle was designed to support muscle health for athletes looking to build lean muscle mass to improve strength and power.
BUILD provides high quality grass-fed protein that stimulates muscle protein synthesis to fuel muscle growth, build lean muscle mass, shorten recovery time, and increase lean protein intake.
POST uses the widely studied 3:1 ratio of carbohydrates to protein to support muscle recovery after intense training sessions.
Each serving is packed with 58g of net carbs, 20g of grass-fed protein, and a well balanced serving of amino acids, electrolytes, and vitamins to rebuild and refuel your muscles.
Lastly, Creatine, the most widely researched supplement on the market.
Creatine is scientifically proven to maximize strength, support muscle gain, increase power and explosiveness, and increase the production of ATP - your muscles preferred energy source.
Always natural, never artificial, and made with real ingredients, use the Strength Bundle to support your muscles and hit your training goals.
FEATURES
Supports Muscles, Strength, and Recovery
Grass-Fed, Non-GMO Protein
Growth Hormone Free, no rBGH or rBST
Fast Digesting Carbohydrates
300g Non-GMO Creatine Monohydrate
Nothing Artificial

FAQ
Builds lean muscle mass, fuels muscle growth, shortens recovery time, and increases lean protein intake.
Creatine has been proven to increase muscle strength and lean muscle mass, improve athletic performance, reduce fatigue, and increase time to fatigue.
POST improves muscle recovery, rebuilds muscle tissue, and refuels muscle glycogen.
BUILD: 1-2 servings.
Creatine:
Loading Phase: 20-25g per day for 5-7 days
Non-Loading: 5g per day.
POST: 1-2 servings.
Total 5 star reviews: 9
Total 4 star reviews: 1
Total 3 star reviews: 0
Total 2 star reviews: 0
Total 1 star reviews: 0
100%
would recommend this product
Honestly...Love it

Ok so I gave this a shot aaaaand was not disappointed! Im 6'1"180..and started seeing results immediately after the first week and a half. I wish I could say I'm lying but I legit had to go through my wardrobe and throw out half of my clothes after 3 weeks.....

A

ATH

9 months ago

LESGOO! TAKING A RIDE ON THE GAIN TRAIN!

Philip T.

2 years ago

Great Taste Clean Feeling

I got the build series and I have really enjoyed its taste as well as its impact on my body. I have seen strength gains as well as weight gains. The reason for the 4 stars is because when mixing post and build it's a little chunky when used in a shaker bottle and I would shake it for over a minute but nothing seems to help it dissolve however, flavor is great! Will be ordering again.

A

ATH

2 years ago

All aboard The Gain Train Phillip! Let's go!!!

A

ATH

9 months ago

No you're amazing.

THANK YOU!!!

This combo is perfect for me, I drop weight like crazy and need to get extra calories just to maintain. This is the perfect answer. Its been 2 weeks since I started using this combo, the BUILD and POST, keeping my weight is going good and Im getting stronger in the weight room. Plus the bars are the extra perfect snack I need in between meals. Quality product. Will be getting again.

Fantastic!!!

I've been very happy with what I have received. All of the products taste excellent and seem to be working extremely well. None of my workouts feel complete without a helping of Post. Build has been an essential supplement in ensuring that I get as close to my daily recommended amount of protein as I am able. ATH gives me exactly what I pay for - all of the nutritional assistance and none of the filler bullshit. Now that I've found ATH, I can finally kiss paying a premium for what is basically shop floor dust from other manufacturers goodbye.

Hammah time!!

It's awesome! Been buying this bundle for a few years now and the post cocoa is on point and I usually get cocoa build but miss ordered the strawberry milkshake and it was the best mistake I ever made!! Everything was great but most of all the results are what it's all about

Top notch quality!

I've ordered this product almost 3 weeks ago and I have to say it's incredible......I've been using this product ever since I've purchased it and I am amazed how much weight and muscle I have gained since using this product......before I used this product I was a skinny 153lbs to now 167 and building muscle......I would definitely use this again for sure and I'm seeing nice and steady results from not just the weight room but also on the jiu Jitsu mat as well Highly recommend for anyone trying to put on quality size

A

ATH

9 months ago

Nice Brandon! Glad we could get you some tickets for the GAIN TRAIN!

Nick M.

1 year ago

👍

I just started my routine on Tuesday, so far I like it, it tastes good and it mixes good.

Radman

2 years ago

Love This S**t!!!

This package has been great! I love the flavors and I love that I don't feel like I drank cement! 100% worth it!

A

ATH

2 years ago

LFG Radman! We hate drinking cement too.

ERIC O.

1 year ago

Perfect Combo!

Creatine and Protein you can't go wrong. I put the creatine in my coffee and protein shakes. For the protein It depends on how I'm feeling. If I just got done exerting a lot of energy from working out and I feel my body could use a little extra carbs and nutrients I go for the Post. But if I feel good, a little thirsty, and a little hungry I go for the Build. The Cocoa flavor is my favorite for the Post and the Cinnamon Cereal is my favorite for the Build. I finally got a subscription. It auto delivers as soon as I'm about to run out of everything.
Reviews Loaded
Reviews Added
---