Shrooms
Powerful nootropic to boost athletic and cognitive performance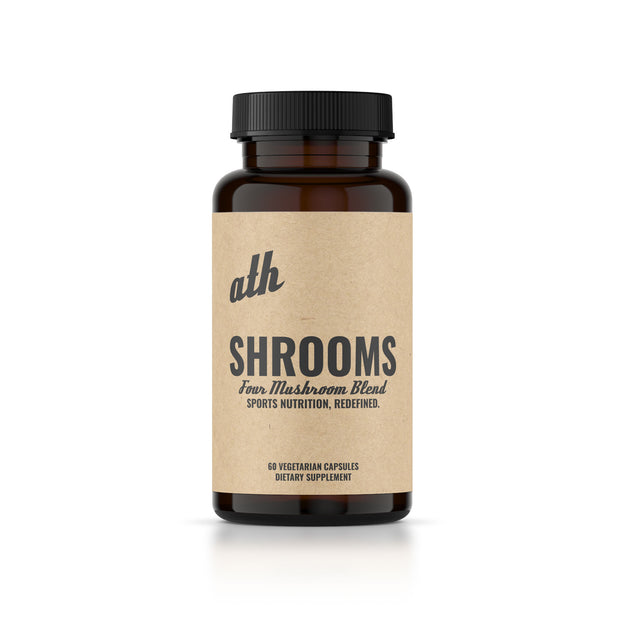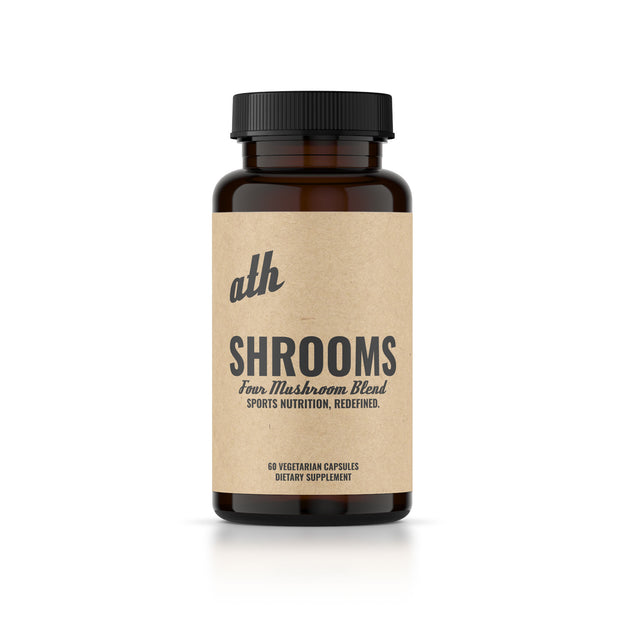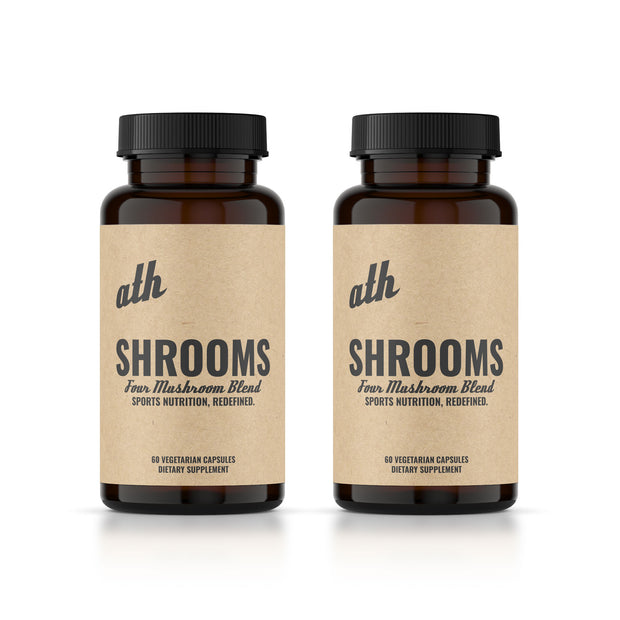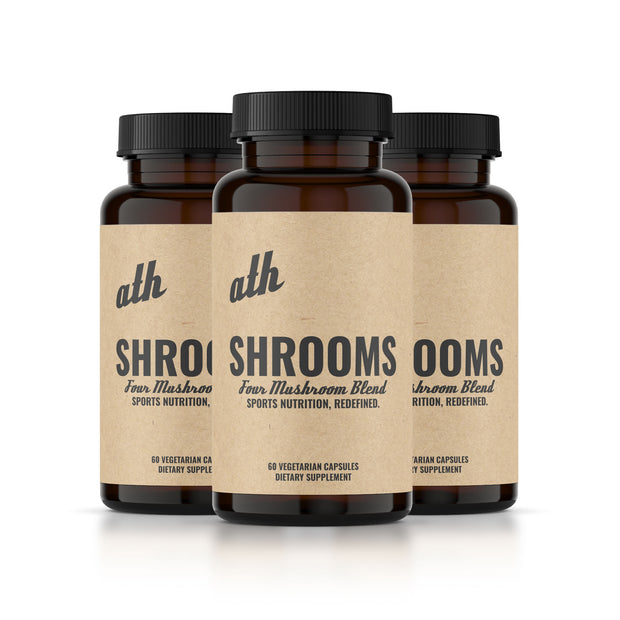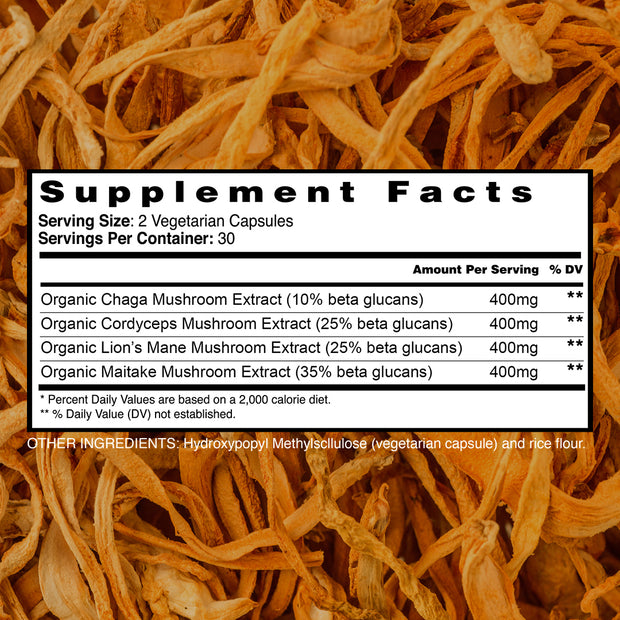 ★★★★★
Shrooms definitely give the boost I need during HIIT workouts. I'm able to breathe better for longer periods of time!Isiejah
★★★★★
2 weeks in and less brain fog, my mood feels boosted and I've had a little more energy throughout the day.
Phillip
WHAT'S INSIDE OUR NOOTROPIC SHROOMS
ORGANIC CORDYCEP FRUITING BODY EXTRACT
Standardized to greater than 25% Beta (1-3),(1-6)-glucans.
Cordyceps improve oxygen utilization, increase ATP levels, support your VO2 Max, and boost mental functions to improve overall athletic performance.
Studies have shown that cordyceps improve athletic performance by increasing the body's production of adenosine triphosphate, ATP, your muscles preferred energy source. By increasing ATP levels, your body improves oxygen utilization and supports your VO2 Max.
ORGANIC CHAGA FRUITING BODY EXTRACT
Standardized to greater than 10% Beta (1-3),(1-6)-glucans.
High in antioxidants, Chaga boosts the immune system by lowering blood sugar levels and reducing long term inflammation.
ORGANIC MAITAKE FRUITING BODY EXTRACT
Standardized to greater than 35% Beta (1-3),(1-6)-glucans.
Maitake strengthens cognitive systems by improving memory, focus, and mood while reducing inflammation and boosting the immune system.
ORGANIC LION'S MANE FRUITING BODY EXTRACT
Standardized to greater than 25% Beta (1-3),(1-6)-glucans.
Lion's Mane supports the production of NFG and myelin, both of which are crucial to supporting cognitive functions and brain health. Shown to improve cognition and memory, while increasing concentration, Lion's Mane cuts through brain fog, boosts energy, and supports mental functions.
SHROOMS GIVES YOU THE MENTAL CLARITY YOU NEED TO TO DOMINATE THE COMPETITION
Formulated with 100% organic fruiting bodies to increase potency and maximize benefits.
Shrooms improve cognitive functions to boost focus, increase mental clarity, and fight off brain fog.
Organic Cordyceps improve oxygen utilization and support your VO2 Max.
Supports training by increasing ATP production and delaying fatigue.
Adaptogenic mushrooms strengthen your immune system to help you train longer and recover faster.
FAQ
Supplementing with Shrooms improves cognitive functions, increases mental clarity and focus, improved oxygen utilization, and increases ATP production.
We recommend taking one serving of Shrooms in the morning and 10-15 minutes prior to training.
We recommend stacking Shrooms with our PRE, BCAA, and Build supplements. PRE can be taken 20-30 minutes before your workout to increase your energy, improve cognitive functions, and increase work capacity. BCAAs are the perfect intra-workout drink that can be taken during your workout to support muscle recovery, prevent loss muscle mass, and boost protein synthesis. Build is the ideal high protein, low carbohydrate protein shake to fuel muscle growth, shorten your recovery time, and build lean muscle mass.
Nootropic mushrooms are natural supplements that have a positive effect on brain functions. They help boost memory, improve focus, and cut through "brain fog".
Yes, Shrooms are safe to consume multiple times a day.
Shrooms have been shown to improve oxygen utilization, increase your body's ATP production, delay fatigue, and improve mental focus.
No. The mushrooms we use, Cordyceps, Chaga, Lion's Mane, and Maitake, do not contain psychoactive properties.
Our Shrooms are made from organic mushroom extracts that are guaranteed to have the active compound -- beta glucans. Zero added fillers, starch, grains or mycelium.
Unlike our Shrooms, most companies use mycelium on grain instead of organic mushroom extracts. Mycelium on grain (MOG) is what commercial mushroom growers call "grain spawn." Grain spawn is cheap to produce and economical to grow in North America. Of course that comes with a downside -- mycelium grown on grain or rice contains minimal amounts of the active compound beta glucan that are found in mushrooms.
Our Shrooms are made from 100% organic mushroom extract.
Even though the label may say "mushroom", you need to look at the Supplement Facts panel. For example, does it say Reishi mushroom? Reishi mushroom mycelium? Or Reishi mycelium? Some products will list the latin name, Ganoderma lucidum, without mentioning mushroom or mycelium.
Honest companies will reveal if the product is mycelium. They will also state in the "Other Ingredients" that there is grain or myceliated grain. Note that it is a requirement for herbal products to state "plant part" and also whether there are other unrelated materials present.
Many companies selling mycelium products will have the word "mushroom" everywhere. In their literature, label, website. Seeing the word mushroom so many times can obscure the actual product – low potency mycelium on grain.
Yes, even though mushroom powders are better than mycelium on grain powders, they still contain less of the active compound beta glucan. Always look for a guaranteed amount of beta glucans.
Yes! We source all of our mushrooms from Nammex, the leader in organic mushroom extracts. Nammex has been working with organic mushroom producers for 20 years and is time tested.
Total 5 star reviews: 62
Total 4 star reviews: 0
Total 3 star reviews: 0
Total 2 star reviews: 1
Total 1 star reviews: 0
98%
would recommend this product
Customer-uploaded media carousel. Press left and right arrows to navigate. Press space or enter to open more details.
Slide 1 selected
William K.

4 years ago

Powered Up

At first I wasn't sure about shroom supplementation but after adding these bad boys into my daily routine I have noticed an increase in my power output at the gym! I highly recommend these Athletic Shrooms to anyone who feels they may have reached their plateau and is looking for another edge!

A

ATH

4 years ago

Nice pic William! Thanks for the feedback.

MUST TRY!

I take these every morning with a cup

Of coffee, love the energy and focus I get from taking it . 10/10 would recommend

Got my daily Shrooms

I'm all about my recovery and Shrooms makes sure I get that extra assistance so that I can continue to workout and train on the mats!

Quinton B.

3 years ago

Faka is cherreh

I tried this product once before but stopped because i didnt feel i was using it in the right setting, last month i figure i would give it another shot because i got a Peloton bike last year and have been an avid rider for the past 6 months. Let me tell you i really felt the difference in focus and being able to push through my v02 max on rides that call for going to and beyond that intensity. I instantly put it on sub!

A

ATH

3 years ago

Stoked to hear Quinton!

Works Great

This is my 4th time buying them, I like them.

Works great!

Feel a lot more energized and laser focused throughout the day

Chad

4 years ago

GreAt stuff!

I def. feel a sudden burst of mental energy after I take 2 in the morning with my breakfast!

Amazing Supplement!

In terms of quality and bioavailability, this product is top notch! Will be continuing to subscribe for the foreseeable future.

GOODBYE BRAIN FOG

Monday mornings are rough and brain fog is usually at an all time high. So these capsules are great in helping me kick the fog and get a clear mind as well as wash away my Monday blues before I head into the office.

Eric B.

3 years ago

Highly recommend

Excellent focus and takes the edge off my anxiety. I literally hand them out for people to try.

A

ATH

3 years ago

Awesome, happy to hear that Eric!
Reviews Loaded
Reviews Added
---
ADD A
1-PACK ($39.95 EACH)