LYTES
The best zero sugar electrolytes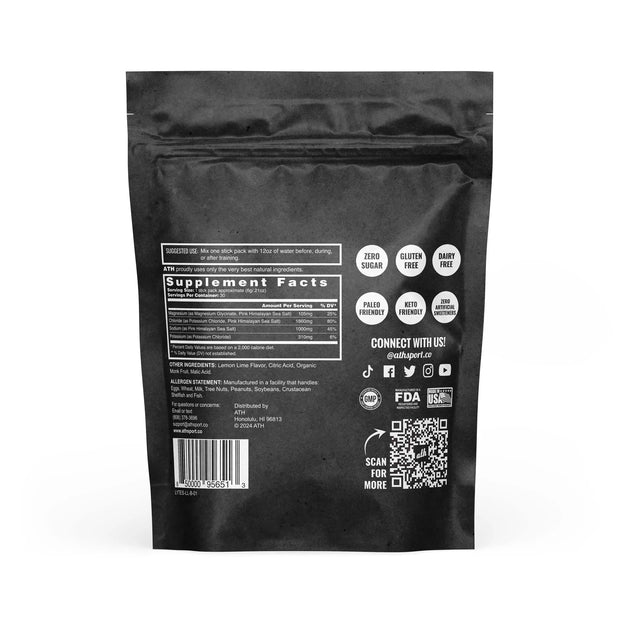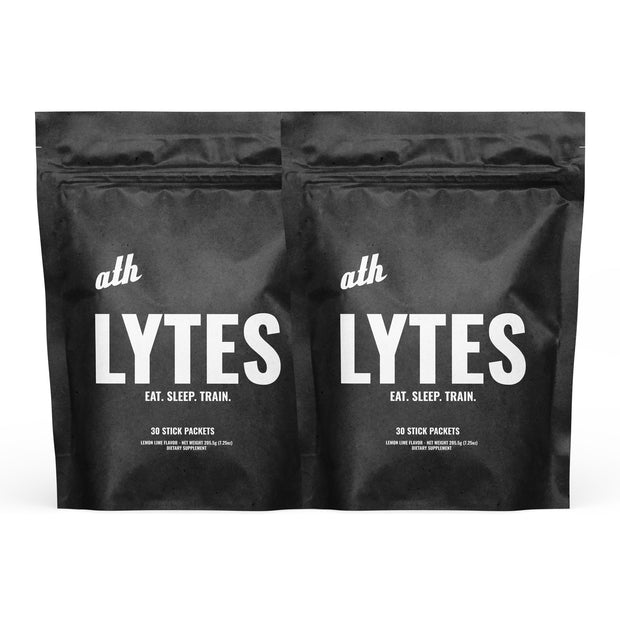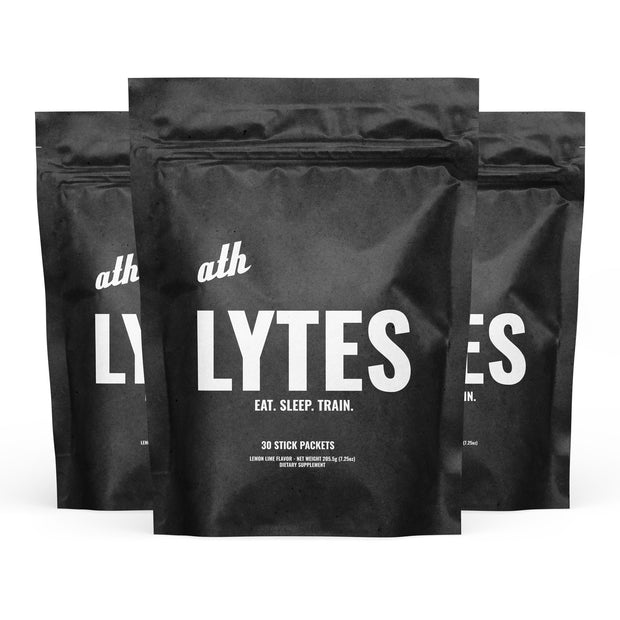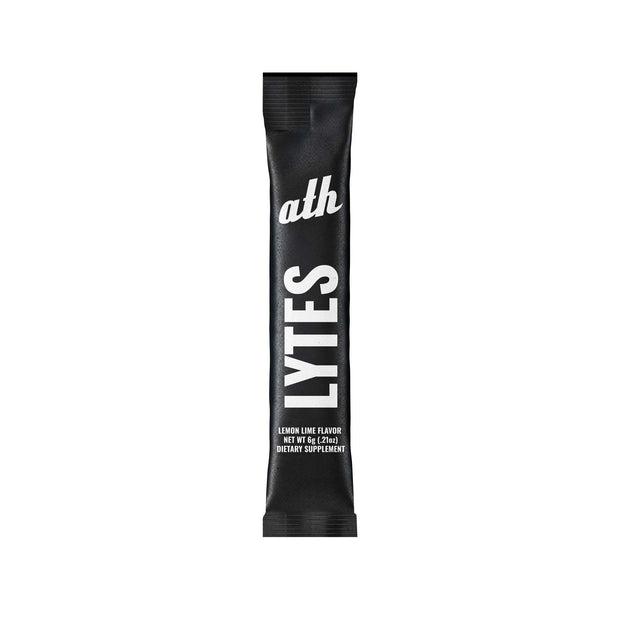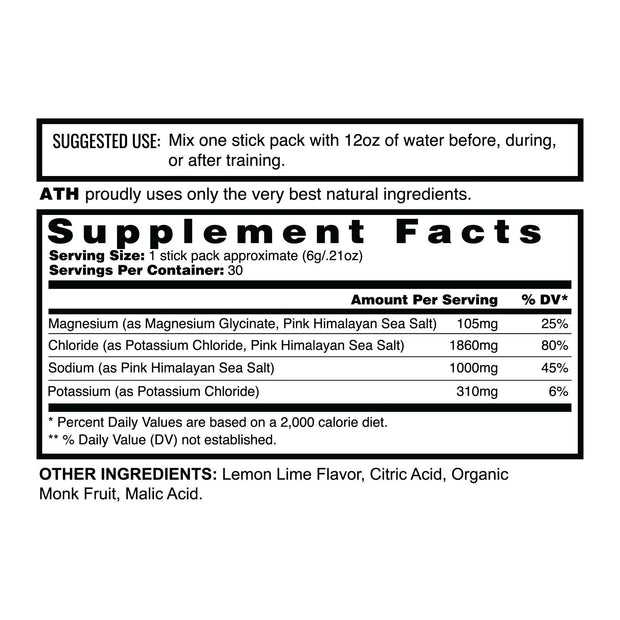 ★★★★★
I sweat A LOT, so I need to replenish with more than just water to keep going throughout the day. Lytes are the best for that, and it's great that there's no sugar so I don't get a blood glucose spike. 100% recommend!Dane N.
★★★★★
Super stoked on these new and revamped Lytes. The stick packs make these so convenient it's ridiculous! I take a couple packs with me in the morning and pour it into my water after training or a lift, it's fu*%$ng great. Plus the lemon-lime flavor is BOMB!
Kimo K.
EVERYTHING YOU NEED, NOTHING YOU DONT
ELECTROLYTES
Simple & effective formula with efficacious dosages necessary for optimal body functions, LYTES has a complete electrolyte profile to replenish minerals lost through sweat utilizing the highest quality natural forms.
PINK HIMALAYAN SEA SALT
LYTES uses Pink Himalayan Sea Salt to replace fluids and minerals lost from sweat. Harvested from ancient sea salt deposits found deep in the Himalayan Mountains, the trace minerals found in this salt, such as iron, magnesium, potassium & calcium result in its range of colors.
All of our Himalayan salt is carefully sourced from FDA-registered suppliers. Once it arrives at our suppliers' state-of-the-art facilities, it undergoes a gamut of quality assurance processes to remove any impurities. Our salt is never heated or refined, and contains no additives of any kind. Just the highest quality & most unadultered Himalayan pink salt possible.
POTASSIUM
Important for optimal body functioning, Potassium plays an important role in the nervous system by relaying messages between your brain and body.
Potassium also regulates your muscle contractions, reflexes, heartbeat, and other important bodily functions.
Important for a healthy heart and strong muscles, Potassium must be consumed as the human body cannot produce it.
MAGNESIUM GLYCINATE
We formulated LYTES with the chelated form of magnesium for maximum absorption, better absorbed than cheaper forms of Magnesium. This essential electrolyte works by transporting blood sugars into the muscles to create fuel and energy, while simultaneously disposing of lactate that causes fatigue.
Research shows that most Americans don't consume enough Magnesium to support an active lifestyle. The fourth most abundant mineral in the human body, magnesium plays a key role in exercise performance.
CHLORIDE
One of the major minerals in your body, Chloride is one of the most important electrolytes found in your blood.
Chloride is responsible for normal cell functioning, fluid balance, and maintaining proper blood volume and body fluids.
ORGANIC MONK FRUIT
Lightly sweetened with 100% Organic Monk Fruit. Unlike store-bought Organic Monk Fruit, our monk fruit contains zero Erythritol and zero Stevia.
REPLENISH SMARTER AND FASTER WITH ELECTROLYTES
Supports your training by replenishing electrolytes and minerals lost through sweat utilizing zero sugar sodium co-transporters for maximum effectiveness.
Optimizes performance by delaying fatigue, increasing endurance, and supporting physical activity.
Convenient stickpacks make hydrating on the go easy.
Easily mixes and dissolves into ice water.
Zero Sugar. Zero Carbohydrates. Zero Artificial Ingredients. And Better Forms.
FAQ
LYTES replaces lost electrolytes from sweat to keep your body hydrated and performing at optimal levels.
Mix one serving of LYTES with 16oz. of ice water before, during, or after training.
We recommend stacking LYTES with our PRE, Shrooms, and BUILD. PRE gives you clean, sustained energy to power through your workouts. Shrooms improve mental functions, improve oxygen utilization, delay the onset of fatigue, boost athletic performance, and increase ATP production. BUILD gives you 20g of grass-fed whey protein to fuel muscle growth and shorten recovery time.
Short answer: NO.
Glucose can aid in the transportation and absorption of chloride and sodium, but it isn't necessary for absorption. Your body is able to absorb electrolytes without glucose through other sodium co-transporters. We specifically use the potassium and chloride sodium co-transporters for sodium uptake. This allows our Lytes to be more versatile and used throughout the day as well as during training.
Sodium can be absorbed by the gut through other costransporters such as: phosphorus, potassium and chloride, butyrate, and amino acids.
Athletes and individuals pushing the limits can lose upwards of 7,000mg of sodium per day through sweat. LYTES is designed to replenish these lost electrolytes. Although government guidelines recommend Americans to consume no more that 2,300mg of sodium per day, it's not enough and is in fact linked to higher blood pressure [1]. Studies show that 5,000mg of sodium per day is the ideal amount for ideal health [2].
We know there's a lot of confusion around flavors. That's why we source our lemon flavor from real lemons utilizing a spray dry process that turns liquid fruit extracts into a fine dry powder that is clean, tastes amazing and shelf-stable.
Total 5 star reviews: 215
Total 4 star reviews: 48
Total 3 star reviews: 21
Total 2 star reviews: 0
Total 1 star reviews: 0
93%
would recommend these products
Customer-uploaded media carousel. Press left and right arrows to navigate. Press space or enter to open more details.
Slide 1 selected
They are gerat

They are great but I do wish they had more flavors.

UPS Driver

UPS driver here, usually drink 1 or 2 a day and keeps me from cramping. Love them.

Lance E.

1 year ago

Lytes

I like da product , only concern is dat half da box da powder was crystalized an hard to get out an dissolve . Oddah dan that 🤙

A

ATH

1 month ago

Hey Lance!

Sorry about that, it sounds like the stickpacks got damaged. Our support team will reach out to get you a replacement.

Need to drink cold

When I first tried ATH I thought it was disgusting. The salt was overpowering. I had a bad leg cramps after working out and decided I'd try it again. I added a stick pack to a litre of water and added ice. Huge improvement. I've been drinking it ever since and enjoy it!

Great rehydration

I was skeptical at first but after using this consistently I am sold.

Best electrolytes out there!

My family and I are in LOVE with these electrolytes. They're not overly sweet which I have seen with other products. Our kids drink this instead of the sugary popular electrolyte drinks. Will be a forever customer.

Crystal S.

Verified Buyer

1 year ago

Clumpy... a lot of packets are solid.

The amount of salt and well balanced electrolytes. Not too sweet, works perfectly in 16oz of water no need to water down further. Upon arrival the first 3 packets I pulled out were hard and not able to be poured. Half of the one box is solid sticks and the other half is a very clumpy powder that frequently gets stuck in the packet. Also the packet tops do not tear of easily. I would recommend adding some type of desiccant to the boxes. Unless I really want to fight with the packets a lot of them are unusable.

Been searching

Been searching for an electrolyte that was sweetened with monk fruit. I finally found ATH. So glad. Highly reocmmend.

Life saver

Only way I get through long fasts.
Reviews Loaded
Reviews Added
ADD A
1-PACK ($44.95 EACH) / LEMON LIME