Multi PRO
20 hand-picked vitamins and minerals designed for athletes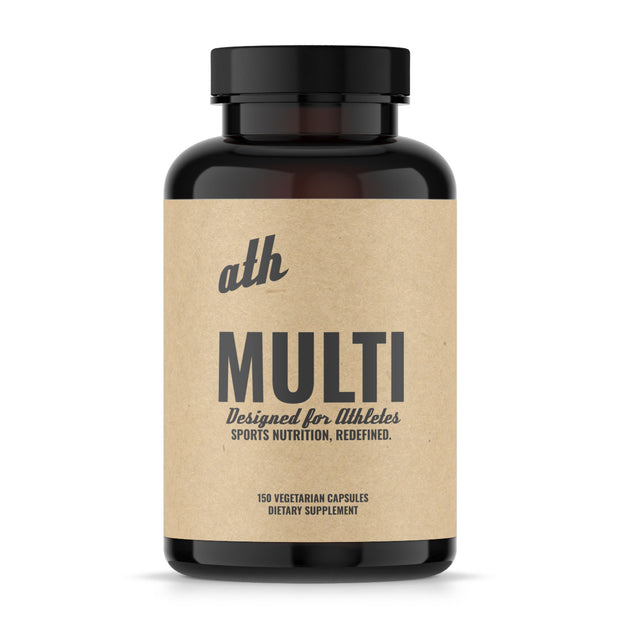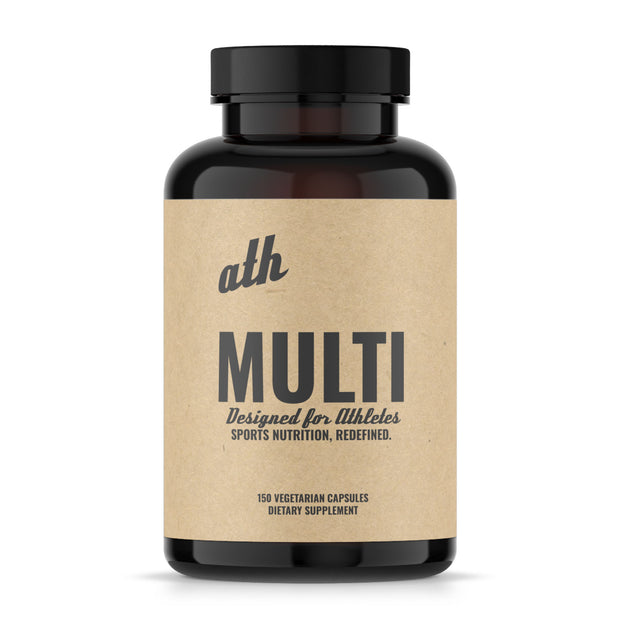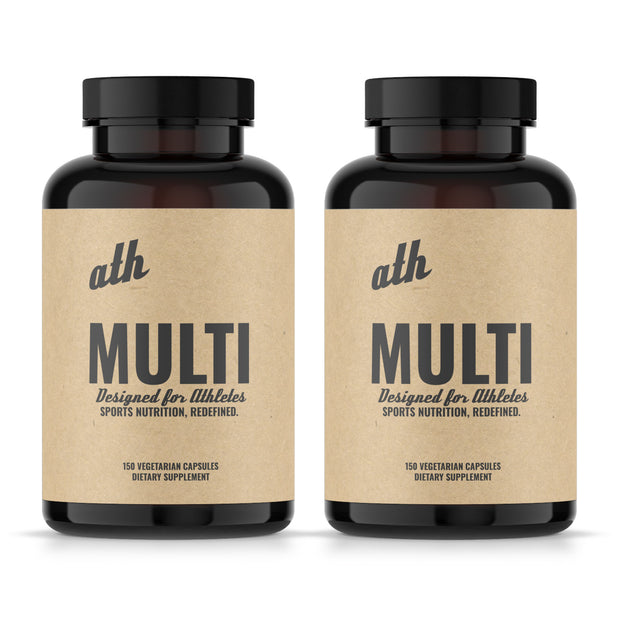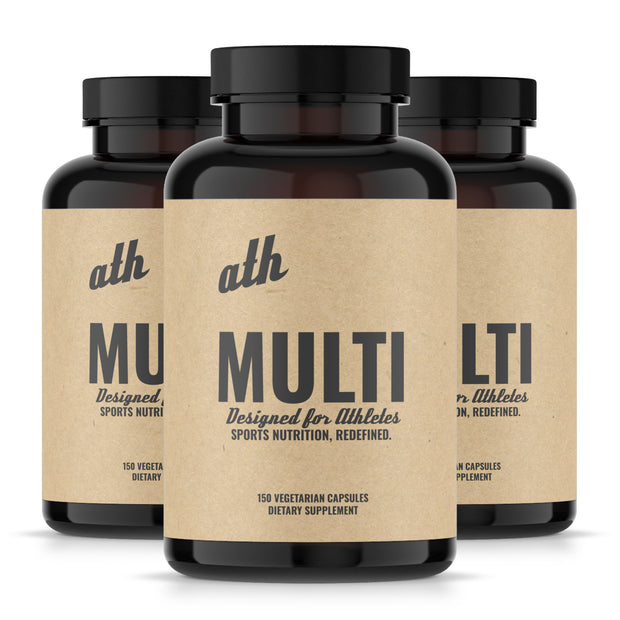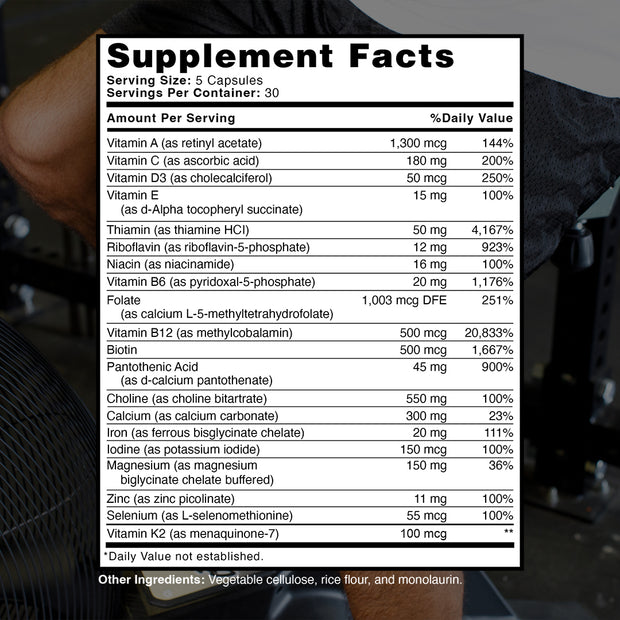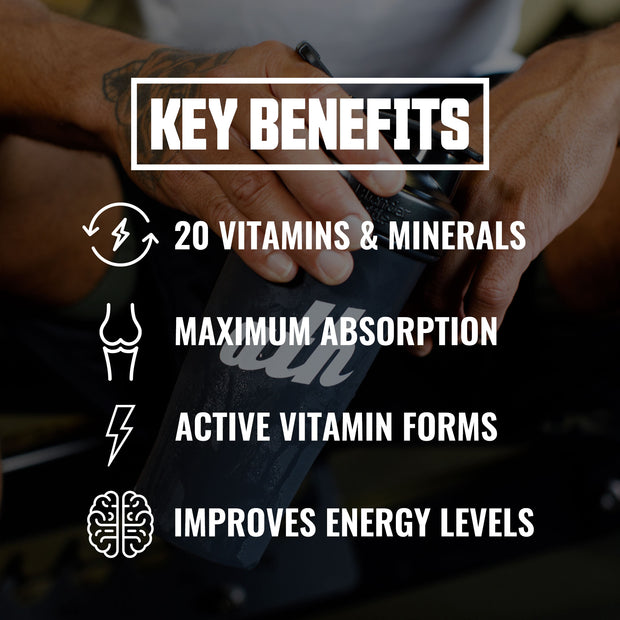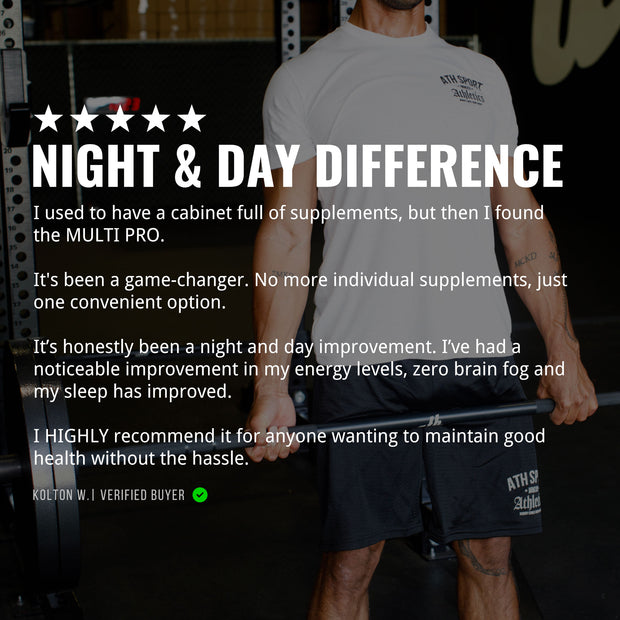 ★★★★★
I have taken multiple different multis and this one is awesome. I don't get stomach aches. I feel like I have more energy. It has become a staple in my diet.
Chris
★★★★★
I've tried a handful of different multivitamins throughout my athletic career and this one tops the list. Most multi's on the market use fillers and the micronutrients don't get absorbed so we just end up excreting them via urine. I've had a noticeable effect in the first two weeks of using this product. I wear a whoop band and my sleep has actually improved since I started taking multi.
Luke
20 ESSENTIAL VITAMINS AND MINERALS FOR ATHLETES
PREFORMED VITAMIN A
Found naturally in eggs, animal organs, meats, and dairy products, preformed vitamin A (Retinyl Acetate) is the active form of the vitamin that is readily absorbed and utilized by the body when compared to provitamin A carotenoids from plant-based sources.
Essential to vision and healthy cell production, vitamin A improves eye-sight in low light conditions and keeps skin fresh and strong.
Antioxidant rich, vitamin A also reduces oxidative stress and damage to improve immune functions and athletic performance.
ACTIVATED B COMPLEX
Activated for increased bioavailability and utilization, Multi PRO uses optimal doses of B1-B3, B5-B7, B9, and B12 to support metabolic processes, boost energy, and improve exercise performance.
Vital to metabolic functions, B-vitamins break down carbs and fats to release energy, while simultaneously metabolizing amino acids to transport oxygen and nutrients to cells.
Symptoms of B-vitamin deficiencies include weakness, fatigue, and an overall lack of energy.
CALCIUM AND VITAMIN D3
Both crucial for strong bones and muscles, calcium and vitamin D3 play a significant role in reducing the risk of bone and muscle injuries.
Calcium supports, builds, and maintains strong bones and muscles.
Vitamin D3, the body's preferred from of vitamin D, works to increase the absorption of calcium, support cardiovascular needs, and strengthen immune functions.
IRON
Iron deficiencies are common in athletes, especially endurance athletes, and can cause fatigue and impaired athletic abilities.
Essential to performance, iron is a crucial element of blood production and is used in hemoglobin to transport oxygen throughout your body and in myoglobin to transport oxygen to your muscles.
VITAMIN K2
Menaquinone (MK-7) is the most highly bioavailable form of Vitamin K2.
Found in full fat dairy products, eggs yolks, liver, and fermented foods, K2 deficiencies are common if you aren't consciously adding it to your diet.
K2 works hand in hand with vitamins A and D to support mineral metabolism and improve bone health.
Also known as the "clotting vitamin", K2 plays a vital role in blood clotting, healthy arterial structure, and heart health.
ESSENTIAL MINERALS
Magnesium and zinc are essential minerals that play key roles in muscle function, healing, and immunity.
Chelated for increased bioavailability and maximum absorption, Magnesium transports blood sugars into the muscles to create fuel and energy, while simultaneously ridding the muscles of lactate to reduce fatigue.
Zinc fights free radicals, improves wound healing, and supports healthy immune function.
NUTRITION DESIGNED FOR ATHLETES
Multi PRO contains 20 essential vitamins and minerals in their most active and natural forms for maximum absorption and superior nutrition. Designed for athletes with high-performance lifestyles. this advanced blend covers all your bases by supporting immune, bone, joint, muscle, and cardiovascular health.
Improves cardiovascular health by strengthening blood vessels, increasing red blood cells, and transporting oxygen rich blood to the heart.
Reduces the risk of sport-related injuries by supporting, maintaining, and building strong bones, joints, and muscles.
Improves energy levels, focus, and cognitive functions. B vitamins metabolize carbs, fats, and amino acids to transport oxygen and energy throughout the body.
Strengthens immune functions, improves would healing, and supports overall health to improve exercise and athletic performance.
FAQ
MultiI PRO uses 20 vitamins and minerals in their most active and natural forms for immediate absorption and maximum benefits. Designed for athletes and individuals who live active lifestyles, daily use of Multi PRO will strengthen immune, cognitive, and cardiovascular systems to increase energy and improve athletic performance.
Supplement with 5 capsules per day. Consume with a meal.
Taking Multi PRO with a meal increases the absorption of vitamins and minerals. Multi PRO also contains Zinc and Vitamin C, which are known to cause slight nausea when taken on an empty stomach. We recommend taking Multi PRO is the morning to start the day strong.
We recommend stacking Multi PRO with our Veggies, Krill, and Gut Health supplements. Veggies are our best selling alkalizing green blend that improves your immune, digestive, and cognitive systems. Krill gives you the omegas you need to support your cardiovascular, joint, and cognitive health systems. Gut Health probiotics support healthy gut flora, improve digestion and nutrient absorption, and support your overall immune system.
B Vitamins are vital to metabolic functions in the body. They break down carbs and fats to create and release energy, while simultaneously metabolizing amino acids to transport oxygen and nutrients to cells to support muscle function.
Symptoms of B vitamin deficiencies may include weakness, fatigue, and an overall lack of energy.
B1: Thiamine as Thiamine HCI has an important role in muscle contraction and nerve signaling.
B2: Riboflavin as Riboflavin-5-Phosphate is especially important for athletes to protect against cell damage to reduce muscle soreness and improve recovery.
B3: Niacin as Niacinamide has a vital role in energy production and helps to preserve muscle glycogen to improve athletic performance.
B5: Pantothenic Acid as Calcium Pantothenate aids in breaking down food enzymes to reduce muscle soreness and support muscle performance.
B6: as Pyridoxal-5-Phosphate is especially vital for athletes. Athletes lose high amounts of B6 through sweat, which makes supplementation key to performance. B6 aids in the function, growth, and recovery of muscles after exercise.
B7: Biotin metabolizes fats, regulates blood sugar, and reduces inflammation in muscles and joints.
B9: Folate as Methylfolate aids in tissue repair and helps the body manage stress.
B12: as Methylcobalamin keeps blood cells healthy and plays a vital role reducing muscle fatigue.
Derived from coconut oil, Monolaurin is a natural excipient that is used in the manufacturing process to help powders flow through machines to create an effective and natural finished good. Most brands and manufacturers use cheap, synthetic excipients such silicon dioxide and magnesium stearate to cut costs, but synthetic excipients can cause unexpected GI issues and disrupt absorption.
Multi PRO uses Monolaurin as an excipient, however in supplement form, it is commonly used in treating the common cold and flu.
Multi PRO has a stronger smell compared to the previous Multi 2.0 because of its activated B vitamin profile.
B vitamins are known to have a stronger odor than other vitamins, which tells you they're working. Natural vitamins will have an odor while synthetic and ineffective dosages typically do not.
Total 5 star reviews: 175
Total 4 star reviews: 33
Total 3 star reviews: 0
Total 2 star reviews: 0
Total 1 star reviews: 0
100%
would recommend this product
Customer-uploaded media carousel. Press left and right arrows to navigate. Press space or enter to open more details.
Slide 1 selected
Gabriel G.

Verified Buyer

4 months ago

Great value

If you look at the back of the bottle and compare it to anything else out there, there's nothing close.

Love it

This, along with the joint and the gut health, is one of my favorite products.

Thumbs up

I'm very happy with this purchase. It's easy on the stomach and the vitamin forms are top notch.

Love it

When it comes to supplements, you get what you pay for.

Perfect for active lifestyle

Most multi's that I found were under dosed and not designed for an active lifestyle. So when I found ATH I was super happy to find a multi that had it all in one.

Matthew S.

Verified Buyer

4 months ago

High Quality

ATH stands for high quality. This multi is no exception.

Steady energy

I notice steady energy and focus throughout the day when I take the multi consistently. When I don't I notice a huge difference.
Reviews Loaded
Reviews Added
---
ADD A
1-PACK ($49.95 EACH)