Product Overview
Introducing the newest essential to your CBD recovery that supports muscle recovery and joint relief.
Whatever your athletic training type may be, we have restructured our CBD Muscle Balm with 400mg of max strength for deep tissue massage to help soothe sore muscles and aching joints.
Now with Eucalyptus oil, Peppermint oil, and Shea Butter this muscle balm will give your skin an icy cool sensation with unrivaled comfort and support to sore muscles and stiff-aching joints.
Featuring a new roll-on application you can now meet all your recovery needs with a convenience never experienced before.
WHY ISOLATE?
Sourced from Oregon & Colorado Grown Organic Hemp, our CBD is extracted from hemp-derived full spectrum CBD oil, the oil is further refined to achieve the isolated crystalline state. By providing CBD in an isolate form, we're able to determine the exact potency of a single cannabinoid.
Isolated cannabidiol is CBD in its purest form, where CBD is the only cannabinoid present. CBD isolate is different than full-spectrum extracts that contain a variety of other compounds and cannabinoids, which include THC. Quality lab tests prove that CBD isolate contains absolutely no THC, unlike its full spectrum counterparts.
FEATURES
400mg of CBD Isolate
Max Strength
Deep Tissue Formula
Mint Scented
THC Free
Derived from Organic Hemp
Made in the USA
Quality Lab Tested

FAQ
Our Muscle Ball Roll-On is a topical CBD isolate that soothes sore muscles and achy joints after training.
Use Muscle Balm after strenuous activity to support muscle and joint relief. Apply a generous amount to affected areas when needed.
We recommend stacking our Muscle Balm Roll-On with our POST, Recovery Gummies, and BCAA supplements. POST improves recovery after intense training sessions. Designed with a 3:1 ratio of carbohydrates to protein, POST refuels muscle glycogen levels, rebuilds muscle tissue, and shortens recovery. Recovery Gummies support recovery, restful sleep, and relaxation as well as reduce inflammation and sooth sore muscles after training. BCAAs are the perfect intra-workout drink that can be taken during your workout to support muscle recovery, prevent loss muscle mass, and boost protein synthesis.
Cannabidiol, widely known as CBD, is a non-psychoactive that is a naturally occurring compound found in hemp.
CBD muscle balm is a topical balm infused with Cannabidiol to support sore muscles and muscle relief.
Isolate is CBD in its purest form and only contains cannabidiol. Full spectrum extracts contain CBD and other cannabinoids including THC.
Customer Reviews
Write a Review
Ask a Question
02/18/2021
Marvin D.
Los Angeles, California, United States
Definitely needed!
This stuff is super necessary after some intense rounds on the mat. I don't think I'd be able to fall asleep at night without it. It's either the jiu jitsu or me getting older.
ATH
Hell yeah Marvin, keep getting those rounds in bro.
02/06/2021
Joseph C.
Bayville, New York, United States
Tiger Ba- who?
I first reached out to ATH Organics because I was unsure which of their THC-Free CBD products would be best for me. They got back to me quickly even after "business hours" and were very knowledgeable and helpful in telling me how the products work, the best way to use them, and when to use them. I ultimately decided on the gummies and the roll-on to help me on recovery days from a great workout session or a long day at work. I use to either have to take an OTC pill to help with the extreme pain I'd face from a heavy strength day or a long run or bike ride, maybe mix on some tiger balm, but I hated putting so many things in and on my body, With the help of ATH, I started using the roll-on muscle balm and it works so well and almost instantly. I say "almost" because I completely forget about the pain within minutes. I apply it before bed and put a sleep shirt on, and that's it. I wake up with no pains or aches the next morning and it doesn't stain or leave any oil on my clothing. Not to mention the smell is nice and calming and never IN YOUR FACE. I've tried other natural remedies for sleep aid and muscle recovery, but this pair I've purchased from ATH Organics has been nothing short of amazing and worth it, like all the other products I get from them. They've now become my only source for workout and supplements that I thew a vinyl sticker on my Jeep's rear windshield so people know.
ATH
Tiger Ba-what? Lol thank again for the feedback!
01/24/2021
gabe c.
Honolulu, Hawaii, United States
Was a gift for girlfriends mom who's been having knee pain at night. She's tried a lot of other products with no relief (even other topical cbd's). She told me that this is the only thing that has worked so far. She now sleeps comfortably with no pain in her knees. Will definitely keep purchasing for her!
ATH
Stoked to hear we could help her with her knee issues!
10/06/2020
Zena
Mill Valley, California, United States
Soothing and Healing
I have a strained, torn shoulder tendon and this CBD balm is lovely in that it glides on so comfortably and soothingly- the eucalyptus oil combined with the soft vitamin E oils are heavenly. I have done my share of ultra races, ironman triathlon and long distanced junkie stuff. I truly love the purity of ATH products and how they never let me down. Always cutting edge and wonderful stuff. I found them only a few months ago and everything they sell is such a honor to try.
ATH
So glad you found us Zena! Appreciate the review!
09/28/2020
Kyle
Honolulu, Hawaii, United States
Essential for Recovery
This balm has played a huge part in my daily recovery. I always workout in the morning and spend the rest of the day getting work done. I've been applying the muscle balm immediately upon starting my work day and notice reduced muscle fatigue and aches throughout the day. My left trapezius and sternocleidomastoid muscles have also experienced intermittent tightness and pain over the last few weeks that have resolved since applying the balm. Additionally, the roll-on mechanism (similar to how lip balm sticks work) ensures that all the CBD is applied to your muscles and no residual is stuck to your hands from applying (as with other brands). Another high quality product from ATH! This is a product that everyone can benefit from, especially if you're experiencing aches/pains or looking for that missing component in your daily recovery. Love the peppermint eucalyptus scent too!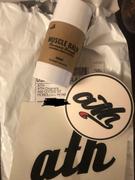 ATH
Stoked for you Kyle! Appreciate the in-depth review!
---
ADD A
1-PACK ($34.95 EACH)