Boom. Here are the results we compiled from the survey.
Your custom text goes here
Your custom text goes here
Your custom text goes here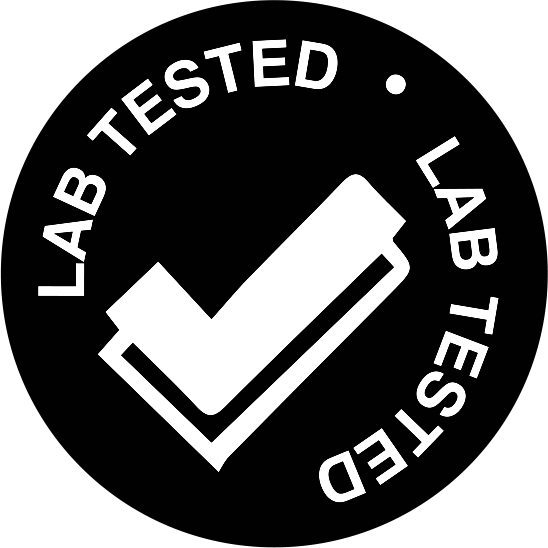 Our products are 3rd Party Tested so you can trust you're getting the highest quality products
From start-to-finish, our products are manufactured in accordance to cGMP regulations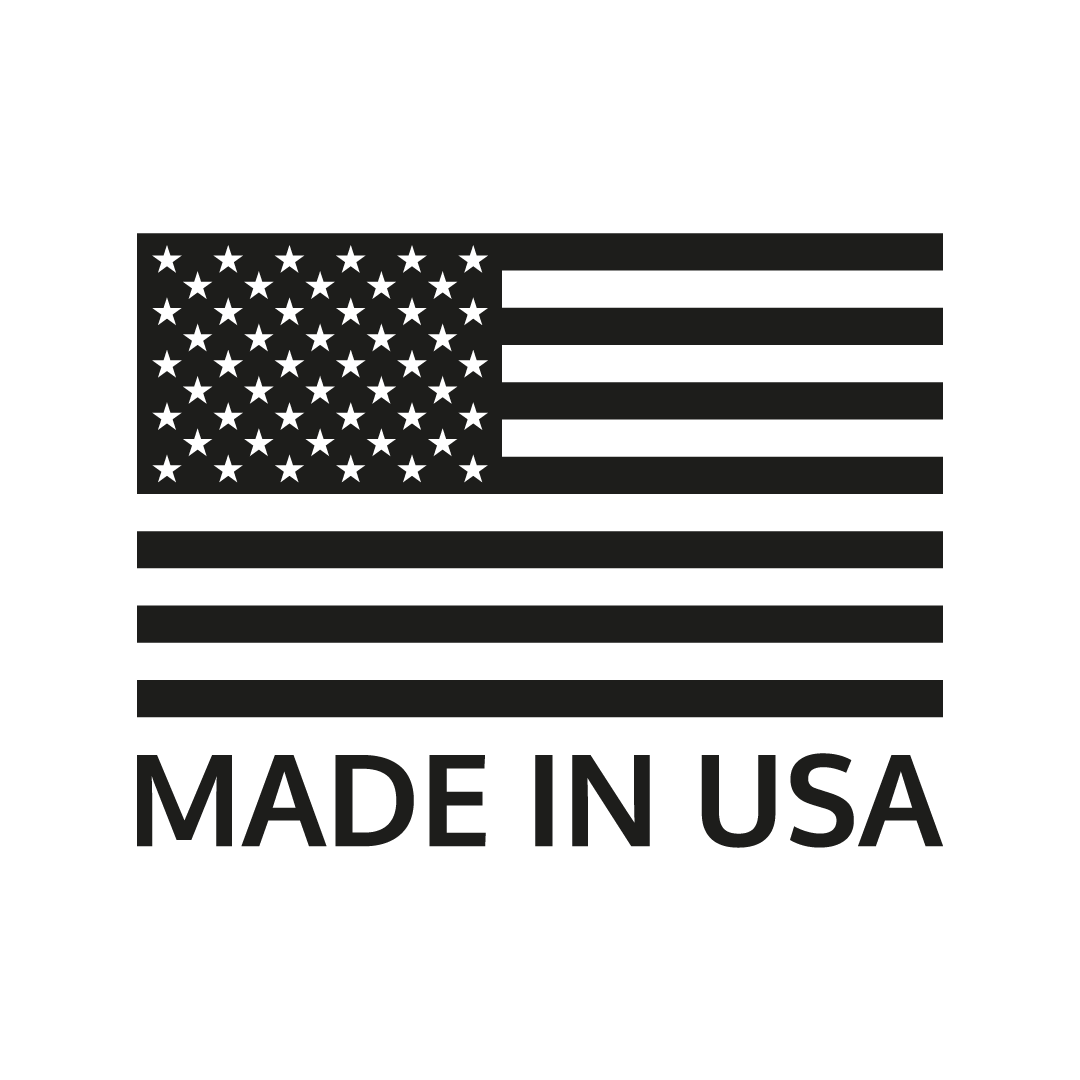 All of our products are proudly Made in the USA in FDA registered facilities
ATH (ay - ti - eich n.) is the abbreviated version of "athletics."

Headquartered in Honolulu, Hawaii, the brand is the offspring of my three passions: Jiu Jitsu, surfing and lifting weights. After returning home from college in 2012, I couldn't find a sports nutrition company that used real ingredients AND designed products for athletes that enjoyed training hard... so I decided to build it myself.

At first I had no intention of creating an actual company. All I wanted was all-natural, quality supplements to help me train. I ordered 50 pound bags of raw ingredients and mixed the first batch in the kitchen. To help pay for the ingredients, I took it to the gym to see if anyone was interested. My training partners ate it up, literally. At the time (and still), supplements had a laundry list of artificial ingredients and left a bad after taste. Our powders were different. They were made with three simple ingredients: clean high quality protein, natural flavors from food sources (like cocoa powder), and a touch of natural sweeteners (like stevia and lo han fruit extract).

After selling out a few times, I realized we were on to something. I figured it was time to get a legit manufacturer to package it for us. Our first purchase order was placed on a credit card. This forced us to create products that our customer actually wanted (we had to pay off our credit card) and ensured our growth was entirely crowd-funded. By selling directly to the end user, we were able to cut out the middle man and pass the savings on to our customers. This also provided us with valuable feedback to help us improve our products.

Since then we've grown across the nation to athletes who are looking for supplements made from real ingredients and a brand they could trust...


HANDS DOWN... THE BEST TASTING NATURAL SUPPLEMENTS
Healthy doesn't have to mean tasting like dirt...
10g Grassfed Hydrolyzed Collagen

Supports & Rebuild Connective Tissue

High in Glycine & Proline

Easily Dissolved & Unflavored
Our Collagen is designed to rebuild and repair the connective tissues that are found in your tendons and ligaments. Derived from grass-fed, pasture-raised bovine hides sourced in Brazil, ATH brings you the cleanest collagen that's been hydrolyzed for maximum absorption into your body.
Sourced from the pristine Antarctic waters, our Krill Oil Omega-3's are in phospholipid form, increasing the bioavailability and making it easier for your body to absorb than Fish Oil. Our Krill Oil also contains Astaxanthin, a powerful antioxidant that combats free radicals. Together, these components support cardiovascular, joint, and cognitive health.
500mg MSM + 5mg BioPerine
JOINT combines the power of 4 natural ingredients: Organic Turmeric, Pomegranate, Non-GMO Glucosamine (non-shellfish), and MSM + Bioprene to support healthy joint function and keep you training day by day.
ZERO ARTIFICIAL SWEETENERS

3RD PARTY CERTIFIED DRUG FREE
INGREDIENTS YOU CAN FEEL GOOD ABOUT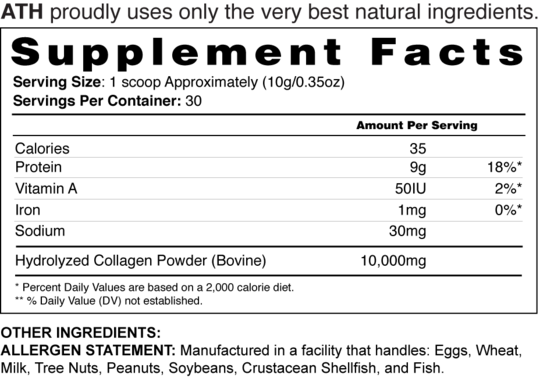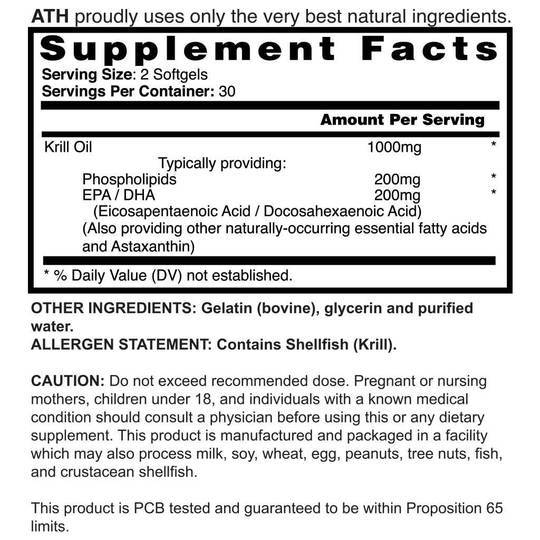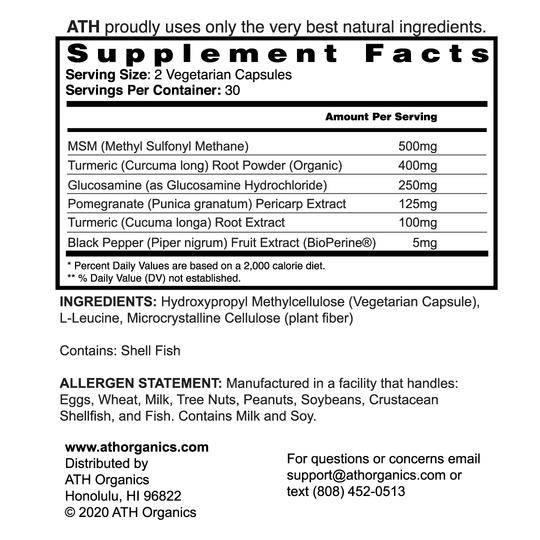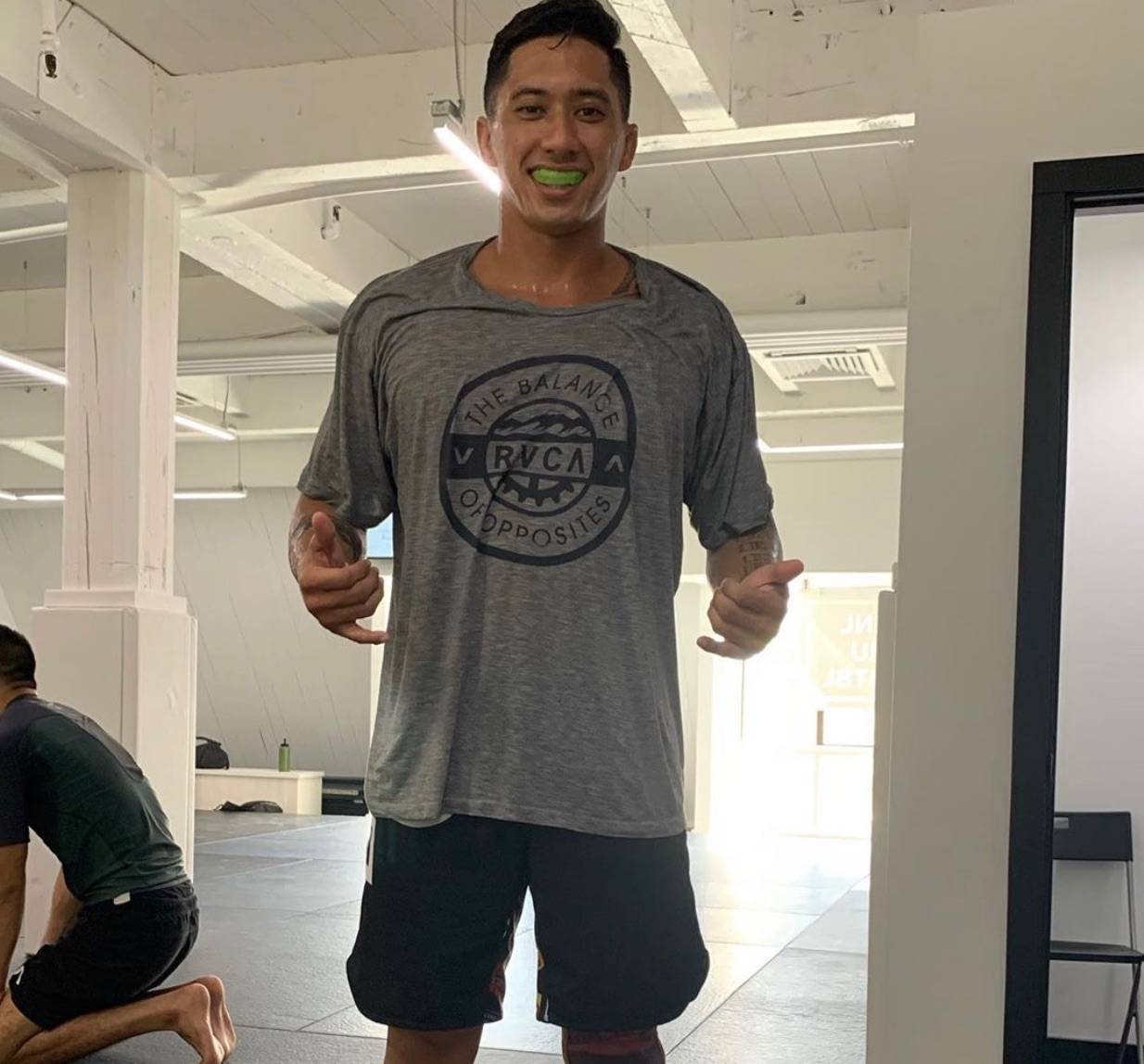 "I have been using ATH products for quite sometime now and they have not disappoint. From their quick response on customer service with any questions; to their ingredients they use on every product, ATH products have given me the results I need for my fitness goals without using harmful ingredients. Thank you again ATH team."
DON'T JUST TAKE OUR WORD FOR IT...
"I have tried countless pre-workouts, BCAAs, protein powder, etc. ATH beats them all! Tastes amazing and it works! Lifelong customer from here on out"
"This supplement is the bomb! Provides good pure energy without jitters and without crazy additives! So happy to find this stuff! The taste is pretty good and mixes well after dissolving a few minutes.Try it, you will not regret it!"
"I'm a big fan of the cocoa Build and generally a huge fan of cinnamon flavored anything. I just tried this mixed with unsweetened almond milk this morning and was blown away. It tastes exactly like the milk left after cinnamon toast crunch cereal. Mixes really well too. My new favorite!!"
"If ATH ever goes under, it's going to be hard to replace it for me. Perfect!"
Customer Reviews
Write a Review
Ask a Question
04/17/2021
IAN S.
Virginia Beach, Virginia, United States
I depend on the joint bundle!
I'm 38 years and have been training jiu jitsu since 2008. I'm also a type 1 diabetic so I depend on whole, natural ingredients that work! The joint bundle keeps me on the mats. I love this stuff!
ATH
Glad to hear we can keep you on the mats Ian, keep up the training.
04/10/2021
Richard F.
West Palm Beach, Florida, United States
This product works!
For three weeks my knee pain was so bad, I could not work and scheduled meniscus repair surgery. After three days of of taking the Joint Bundle, pain is diminished so much, I have returned to work and canceled my upcoming surgery. Wonderful! Hard to believe the immediate help! Mahalo!!!!
ATH
Stories like this is why we do what we do, thanks Richard.
04/07/2021
Herman B.
Clinton Township, Michigan, United States
Great!!
No complaints or nitpicking at all with these products. The collagen dissolved easily in my morning coffee without adding any crazy flavor, and the Krill and Joint have me feeling less pain in my movements, so I definitely will continue to use it. Great job ATH!!
ATH
Hell yeah Herman, this is the kind of feedback we're here for.
02/01/2021
TDA
Seattle, Washington, United States
BUY THIS, ASAP
Currently my bf and I are taking the collagen together and we've so many gains. Stronger nails, hair growth, faster recovery, the list goes on. He also takes the joint and krill pills and has seen so many positives. Was highly recommended these products and we highly recommend these products
03/25/2020
Corey M.
Crestwood, Kentucky, United States
Buy It
Best joint products on the market. Spend the money on the stuff that is all natural and your knees will thank you.
ATH
Right on Corey! Appreciate it!
Start off with a single SKU instead of our entire bundle!