Product Overview
Quercetin, a flavonoid found in fruits and vegetables, has been widely researched and recognized as an antioxidant rich natural substance used to support inflammation, increase exercise performance, and boost immunity levels.
Added Bromelain supports a balanced immune system and combats environmental challenges.
These two combined promote year long respiratory, cardiovascular, and immune support to cover all your bases and keep you going day in and day out.
FEATURES
Respiratory Support
Cardiovascular Support
Supports Immune Function
500mg Quercetin
100mg Bromelain
60 Servings
Veggie Capsules

FAQ
Quercetin is a flavonoid, found in fruits and vegetables that has shown to help improve mental* and physical performance*, and boost the immune system.
Flavonoids are antioxidant rich natural substances that are part of a diverse group of phytonutrients that are found in plants and vegetables.
Bromelain is a protein-digesting, natural substance derived from the pineapples. Historically, Bromelain was used for centuries throughout Central and South America to treat ailments such as digestive disorders.
Customer Reviews
Write a Review
Ask a Question
09/29/2021
Savanah O.
Wahiawa, Hawaii, United States
Works! Helps a lot with my asthma
I love this product!! I've always had bad asthma, until I started taking these. My asthma is under control and I feel awesome! Mahalo nui!
ATH
Glad you've found us, Savanah!
05/08/2021
Richard D.
Clovis, California, United States
This is some quality stuff!!! I love it!!!
01/31/2021
Noah T.
Valparaiso, Indiana, United States
Outstanding product!
Another quality product from ATH. Great for assisting immune function, I pare this product with the zinc as well, helps to get the most out of both products.
ATH
Here's a guy who knows what he's talking about! Thanks for the feedback Noah!
10/09/2020
Gerard I.
Honolulu, Hawaii, United States
GREAT IMMUNITY PRODUCT!
Seriously if you haven't added Quercetin to your immunity stack what the **** are you doing? The benefits are insane and ATH has come through with a high quality version that honestly no one else on the market can compete with. I mean they even added Bromelain with combined with Quercetin will give you cardiovascular, respiratory, and immune support like you've never experienced. Stop being ******, do your research, and get f#$*'n healthier...Quercetin is an obvious add to your regimen.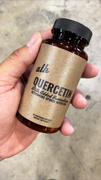 ATH
Stoked you're as stoked as we are about Quercetin Gerard, stay healthy!
09/11/2020
Amber R.
Albuquerque, New Mexico, United States
Special capsule -
I have a rice allergy - weird, I know, its a thing, look it up. Anyways many supplements use rice powder in capsules or for anti caking, so I was looking for someone who didn't. I was literally googleing and looking at ingredient labels. Found this. Super happy. Customer for life.
ADD A
1-PACK ($24.95 EACH)