Holiday Survival Bundle
Everything you need to make it through the season.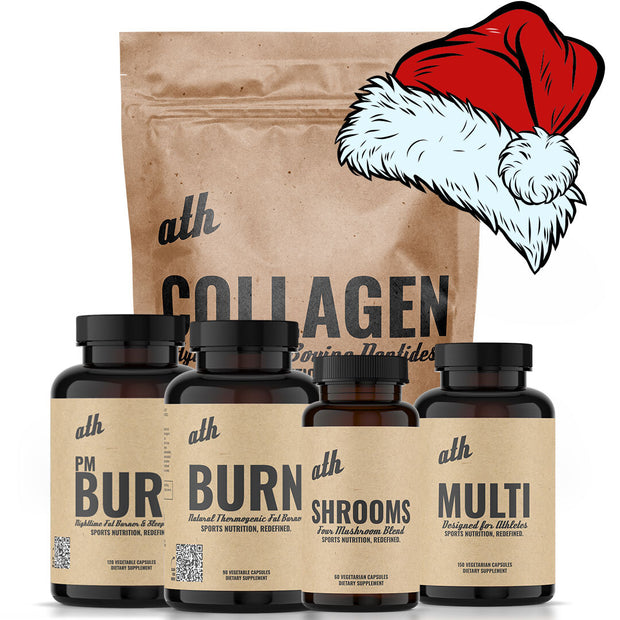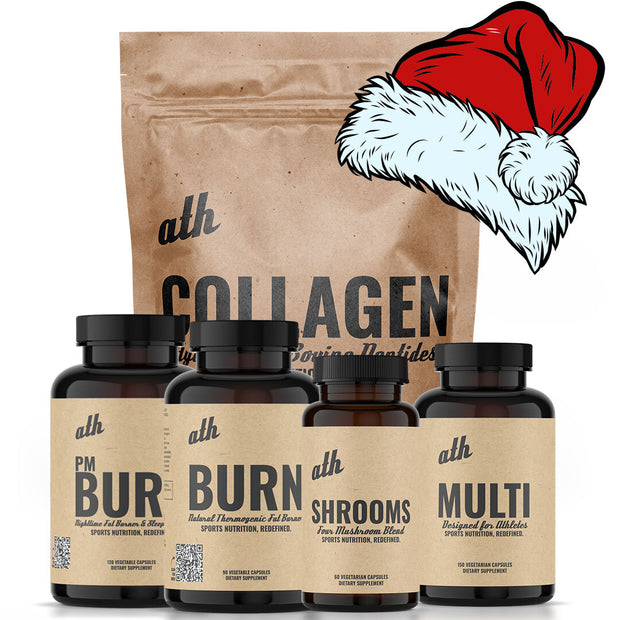 ★★★★★
This is the best multi that I've come across. I do a lot of research and take my supplements seriously. These vitamin forms are the preferred forms for maximum absorption. - Jacob L.
BREEZE THROUGH THE HOLIDAYS
SHROOMS
Powerful adaptogens from Organic Cordyceps, Organic Chaga, Organic Lion's Mane, and Organic Maitake.
Adaptogens help the body combat physical and mental stress, anxiety, and fatigue - three common themes of the holiday season that can impact mood, health, and energy levels.
Daily Shrooms can help to reduce the negative impacts of the season and also have a positive effect on brain functions that help improve memory, focus, and cut through the "brain fog".
Caffeine free, Shrooms can be used day and night.
COLLAGEN
100% Hydrolyzed Collagen Peptides from grass-fed, pasture raised cows.
The literal glue that holds us together, everyone should be taking 10-20g of Collagen per day.
Our body's natural production of Collagen begins to slow in our twenties - but holiday stress can be the nail in the coffin for us. Stress has a big impact on the body's ability to produce collagen and can break down the skin's existing collagen and elastin. This break down and decreased production speeds up the aging process which can lead to weaker skin and hair. Up your Collagen intake through the season to combat wrinkles and save your hairline.
MULTI PRO
20 essential vitamins and minerals in their most natural and active forms for maximum absorption and a stronger immune system.
Preformed Vitamin A, (Retinyl Acetate), is essential to visions, healthy cell production, and reducing oxidative stress.
B-vitamins support metabolic processes, boost energy, and improve exercise performance.
Calcium and Vitamin D3 supports, builds, and maintains strong bones and muscles to reduce the risk of bone and muscle injuries in athletes.
Iron transports oxygen throughout the body to increase endurance and reduce fatigue.
Vitamin K2 supports mineral metabolism to improve bone health and also plays a vital role in blood clotting, healthy arterial structure, and overall heart health.
Lastly, essential minerals Magnesium and Zinc, play key roles in muscle function, healing, energy production, and a strong immune profile.
BURN
Daytime weight management and appetite suppression.
BURN works to curb appetite, kick sugar cravings, and reduce caloric intake to keep you in control and keep your gut from popping outta those pants.
A powerful combination of natural thermogenics work to increase metabolism, burn calories while active and at rest, increase energy expenditure, and suppress appetite. With 120mg of caffeine per serving, use BURN as a day time tool.
PM BURN
Nighttime weight management and sleep aid.
PM BURN keeps your metabolism up and keeps burning calories as you sleep while simultaneously putting you in a deep sleep so you can dream of sugar drops all night long.
Thermogenics still work to keep your body in fat burning mode, but ingredients like Inositol, B6, Magnesium L-Threonate, L-Theanine, Zinc Pincolinate, and Ashwagahndha help wipe away the holiday blues and to help you fall asleep faster and stay asleep longer. Take PM BURN 30-60 minutes before bed and wake up refreshed, instead of Scrooge mode.
BETTER MOOD, BETTER SLEEP, LESS STRESS
Powerful adaptogens to reduce stress and boost mood and feeling of joys. Adaptogens strengthen brain functions to improve memory and cut through the fog.
10-20g of Collagen works to keep your hair and skin strong throughout the holiday madness.
Multi PRO boosts your immune system to keep you energized and strong.
BURN suppresses appetite, kicks sugar cravings, and boosts metabolism to burn more calories throughout the day.
PM BURN keeps you in fat burning mode while you rest and sleep like a baby.
FAQ
This bundle is everything you need to boost your mood, reduce stress, and keep your appetite in check and metabolism running smooth during the holiday season.
Shrooms is a powerful combination of adaptogens that helps the body combat stress, anxiety, and fatigue. While reducing negative impacts of day to day life, adaptogens also have a postive effect on brain functions that help improve memory, focus, and cut through "brain fog" to keep your mind sharp going into the new year.
Daily collagen has been shown to strengthen joint function, improve gut health, and strengthen skin, hair, and nails. Holiday stress can have a big impact on your body's natural collagen production and can in fact break down the collagen and elastin found in the skin. Which heavily interferes with new collagen production and speeds up the aging process and WRINKLES. Use 10-20g of daily collagen to combat the effects of holiday stress on your skin and hairline.
Short answer: A strong immune system to keep you healthy, active, and energized.
Multi PRO uses 20 vitamins and minerals in their most active and natural forms for immediate absorption and maximum benefits. Multi PRO is a no bullshit - strong formula designed for athletes and active individuals. Not only for immune health, Multi PRO has huge benefits for your cognitive and cardiovascular systems.
Appetite surppression, better metabolism, increased calories burned, and energy.
BURN uses only natural thermogenics that work to kick sugar cravings and keep your eating in control so you don't turn into Santa overthe holidays. Ingredients like Capsimax from cayenne pepper and Grains of Paradise help to boost metabolism and burn more calories while active and at rest.
Use BURN during the day and with a calorie deficit and aid in weight loss. BURN can also be used to support maintenance.
Just like BURN - PM BURN will help aid in weight loss or managment by reducing appetite and kicking nighttime munchies.
The difference is that PM BURN is a nighttime fat burner and sleep aid that promorotes feeling of calmness and relaxation to help you fall asleep faster and stay asleep longer. Ingredients like Inositol, B6, Magnesium L-Threonate, and L-Theanine improve sleep patterns, limit sleep disturbances, and improve quality sleep. While Ashwaghanda and Zinc Picolinate lower cortisol levels in the body resulting in less stress and deep sleep.
Take one serving of PM BURN 30-60 minutes before sleep.
When used correctly and consistently - both can assist in weight loss or weight management.
Pair BURN and PM BURN with a calorie deficit and consistent training program for best results.
They will not work if you're shoving cookies down your throat all day. Use them as a tool - don't rely on them.
ADD A
1-PACK ($176.06 EACH)