Customer Reviews
Write a Review
Ask a Question
04/13/2021
Jason H.
Buena Park, California, United States
The tiger camo is rad my go to jacket for dog walks a need training!
ATH
Drop a pic of you and your pup next time Jason!
thick and soft
Got this a few days ago and wore it out for a run in the rain yesterday! It was warm & comfy. The only thing I didn't like was how long it was, but that's understandable since it's a men's hoodie. Please consider making more women's items!!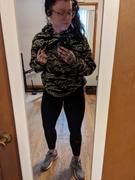 ATH
We're building out our swag line Taylor so we got some good stuff coming your way.
02/09/2021
Rodrigo E.
Knoxville, Tennessee, United States
01/04/2021
Anthony M.
Goleta, California, United States
Very comfortable and great quality!
ATH
Thanks Anthony! Enjoy that hoodie!