Product Overview
We know it can be challenging to find a quality CBD product that you can trust with so many options out there. Lucky for you, we've sourced the cleanest CBD we could get our hands on, an isolate with 0% THC, backed by Quality Assurance, batch testing, and GMP certifications.
Our CBD is sourced from a facility that has its entire process, hemp-to-final product, thoroughly inspected and audited by a third party certification program, earning them their ISO 9001:2015 certification by SGS. In addition, each batch is tested for potency, impurities, and residual solvents.
Why Isolate?
Sourced from Oregon & Colorado Grown Organic Hemp, our CBD is extracted from hemp-derived full spectrum CBD oil, the oil is further refined to achieve the isolated crystalline state. By providing CBD in an isolate form, we're able to determine the exact potency of a single cannabinoid.
Isolated cannabidiol is CBD in its purest form, where CBD is the only cannabinoid present. CBD isolate is different than full-spectrum extracts that contain a variety of other compounds and cannabinoids, which include THC. Quality lab tests prove that CBD isolate contains absolutely no THC, unlike its full spectrum counterparts.
Adding CBD to your daily routine or after intense training sessions can help ease pain and discomfort, reduce inflammation from intense training, and support healthy-restful sleep. For best results, use the dropper to place CBD directly under the tongue and hold there for 45-60 seconds. By taking the tincture sublingually, the CBD absorbs directly into your bloodstream.
FEATURES
1000mg of CBD Isolate
Natural Flavor
THC Free
Derived from Organic Hemp
Made in the USA
Quality Lab Tested

FAQ
Our Recovery Oil contains CBD isolate to support recovery, reduce inflammation, promote restful sleep and relaxation, and ease pain and discomfort from over training.
Use the dropper to place the CBD under your tongue, hold it there for 60 seconds before swallowing. By taking CBD sublingually, under the tongue, it allows the CBD to be absorbed directly into your bloodstream for better and faster absorption.
We recommend stacking Recovery Oil with our POST, Muscle Balm, and BCAA supplements. POST improves recovery after intense training sessions. Designed with a 3:1 ratio of carbohydrates to protein, POST refuels muscle glycogen levels, rebuilds muscle tissue, and shortens recovery. Muscle Balm Roll-On soothes sore muscles and aching joints. Our maximum strength topical CBD is a convenient way to provide instant relief after training. BCAAs are the perfect intra-workout drink that can be taken during your workout to support muscle recovery, prevent loss muscle mass, and boost protein synthesis.
Cannabidiol, widely known as CBD, is a non-psychoactive that is a naturally occurring compound found in hemp.
Isolate is CBD in its purest form and only contains cannabidiol. Full spectrum extracts contain CBD and other cannabinoids including THC.
No, CBD does not contain psychoactive properties that are typically associated with marijuana and THC.
Yes. Our Recovery Oil contains 0% THC, making it completely legal.
Customer Reviews
Write a Review
Ask a Question
04/30/2021
Eric M.
New Kensington, Pennsylvania, United States
Amazing!
This product is amazing! I haven't slept well in what feels like ages. I've tried different oil and NOTHING has compared to this product. I am sleeping soundly and through the entire night. Not to mention it drastically helps my anxiety. HIGHLY recommend. If you're not taking this product, you're making a mistake!
ATH
Glad to hear it's helping Eric!
01/25/2021
Lacey D.
Sausalito, California, United States
Simply the best
*I sent this email to the company, but want to make sure it gets shared here as well** I'm sure you hear it often, but looking for an organic and clean whey protein isn't always so simple. I love that ATH is transparent with their ingredients and sources, plus verifying quality along the way. That alone makes it worth it for me, but then there's the taste.....! ♥️ I look forward to my daily post workout shake, blended with water. I didn't know that was possible in a protein powder and it to taste so good! In addition I did take the plunge on incorporating CBD for my recovery - let's just say I did not expect it to be as effective or noticeable (and ya I used the green stuff most of my life recreationally, but when you change your "why" in life things just naturally slough off in the process.) except this, this can stay forever! These are the only two products I need for my goals, which I have been noticeably improving in strength and muscle tone. I can't wait to share the final results in April 2021 - the competition I am currently in isn't going to know what hit them. That's how confident I am in your products! Side note: I really love the chocolate flavored powder, have not tried the cinnamon.... but when you find what you love, why mess with it? I love that the base is fractionated coconut oil, no funky after taste and it's the kind of fat I want in my diet. Does not taste like coconut, just very light oil that's easy to hold under tongue until absorbed. Bye bye painful and slow post-workout recovery!
ATH
More great feedback from a great customer!
12/27/2020
Leonardo D.
Biloxi, Mississippi, United States
It works great!
I've tried other cbd oils and was never sure if they worked or not if you know what I mean. This time I felt a strong relaxation response within one hour of using it. I've taken before bed and in the middle of the day and responses were different. Before bed reeeaaally helps me sleep better, in the middle of the day it helps me relax but stay clear headed and calm, but energized at the same time.
ATH
Nice! Glad to hear you're loving the CBD -- Thanks for the awesome feedback!
12/21/2020
Christian C.
Kaneohe, Hawaii, United States
Tried a bunch of different tinctures (brands, dosages) and safe to say this is easily the best one I've come across. Helps so much with sleep and recovery!
ATH
Stoked that you're stoked Christian!
12/21/2020
Nick V.
Houston, Texas, United States
Works great!
I had been wanting to try this product for quite some time. There are so many CBD products on the market, but none I could commit to without feeling like I wasn't going to get what I paid for. I have to say that I wasn't surprised when I purchased this and got exactly what I paid for. Y'all have never let me down. I take this tincture pre or post workout and am confident it helps with my muscle recovery. I have also taken it after a stressful day to help ease my mind. The taste is great! ATH....thanks again for another amazing product that I can rely on!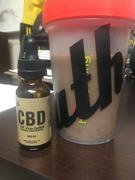 ---