VEGGIES
With added Prebiotics and Adaptogens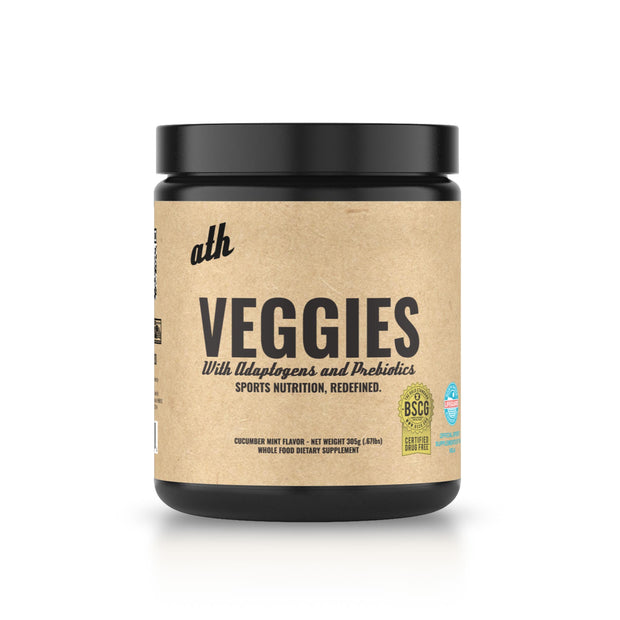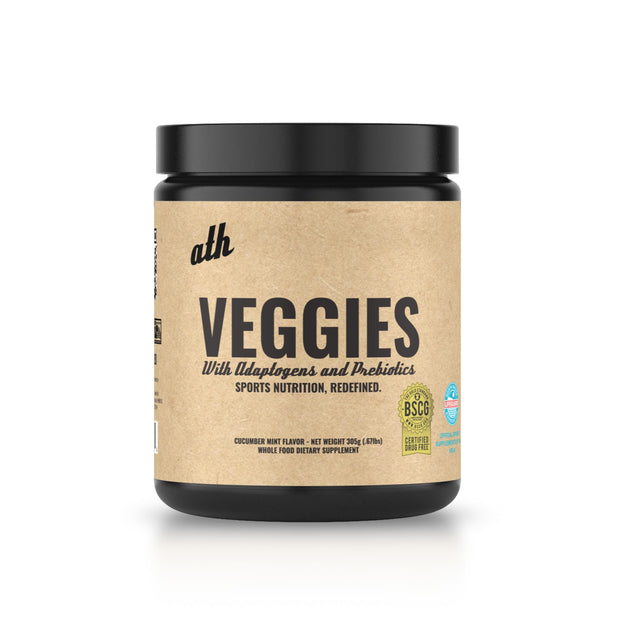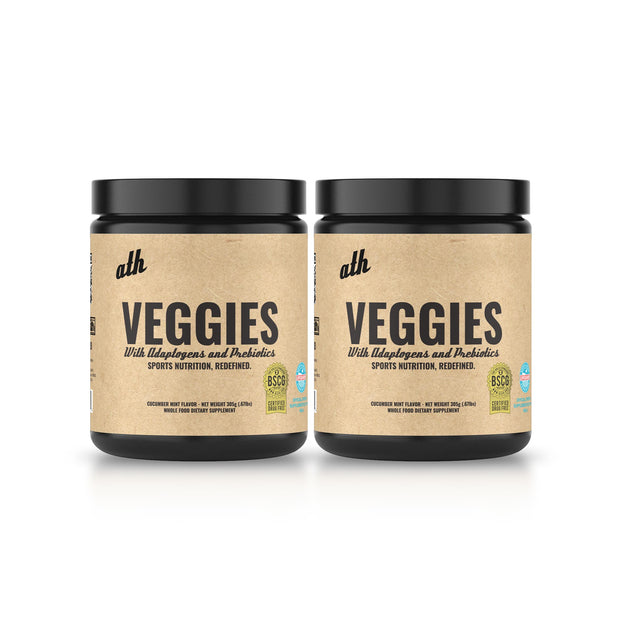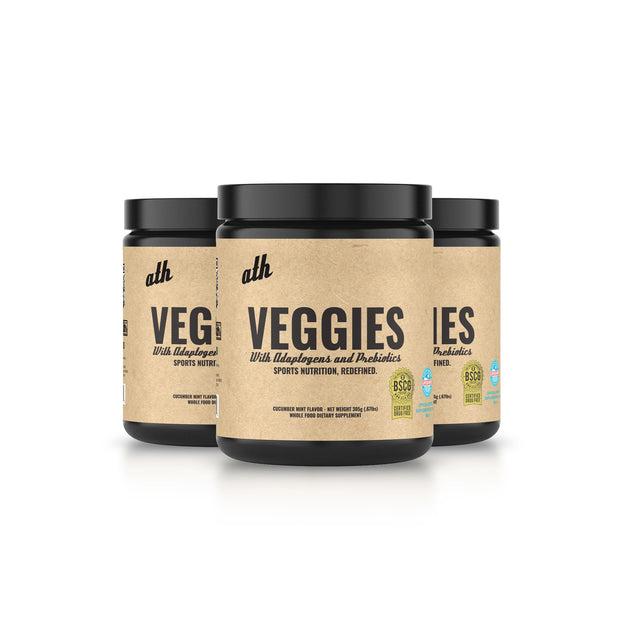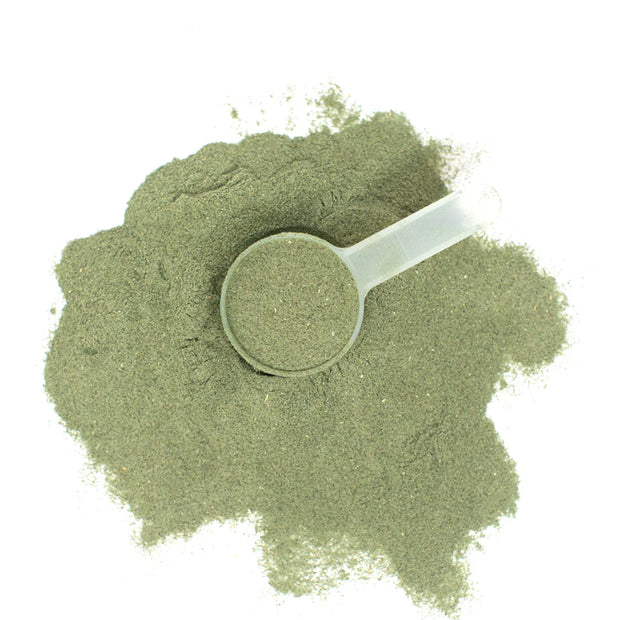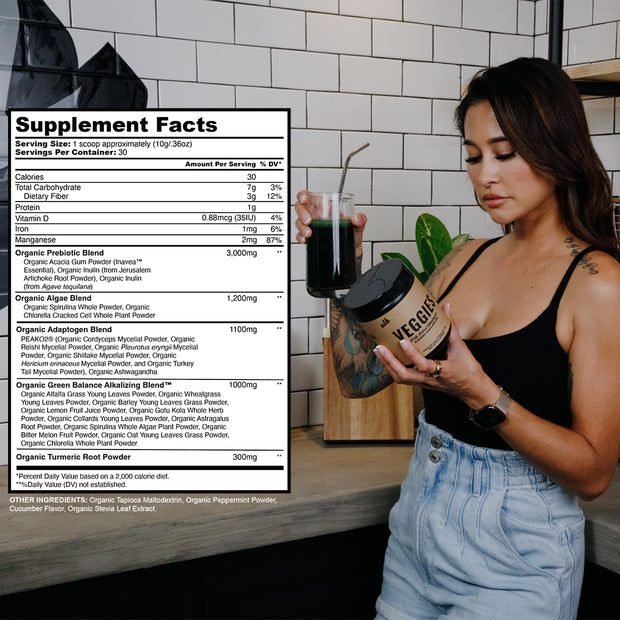 ★★★★★
So delicious, nice consistency, easy to mix, tastes 1000% better than Athletic Greens and doesn't foul. Nice packaging and very transparent ingredients. 10/10 would recommend. -Cole
★★★★★
No more chugging down nasty clumps of powder at the bottom of my shaker! These veggies mix super easy and taste great with just water. I take them every morning for a healthy start to my day. BONUS...it has adaptogens to clear your morning brain fog!
Nicole B.
WHAT'S INSIDE OUR VEGGIES
ORGANIC PREBIOTIC BLEND
Fiber Powder, Agave Inulin, and Artichoke Inulin work together to slow down digestion, increase absorption of nutrients, and support a healthy digestive system.
ORGANIC ALGAE BLEND
Antioxidant rich Spirulina and Chlorella pack in the nutrients to help your body detoxify to improve overall health.
Spirulina, a blue-green algae, is a powerful antioxidant that reduces inflammation, lowers "bad" cholesterol, regulates blood sugar, and reduces oxidative stress.
Chlorella, a green freshwater algae, is packed with vitamins to aid in detoxing, while promoting eye health, improving digestion, and supporting liver health.
ORGANIC ALKALIZING VEGETABLE BLEND
Alfalfa Grass, Wheatgrass, Barley Grass, Lemon Juice, Gotu Kola, Kale, Astragalus, Spirulina, Bitter Melon, Oat Grass, and Chlorella reduce the amount of acidity in your body and work together to keep you functioning and performing at optimal levels.
ORGANIC ADAPTOGENS BLEND
Maca Root, Ashwagandha Root, and Reishi give you a boost in mental clarity and kick the brain fog.
ORGANIC TURMERIC
Turmeric reduces inflammation to support your joints.
COVER ALL YOUR BASES AND FILL THE GAPS IN YOUR DIET WITH VEGGIES
The most convenient and delicious way to get in your daily serving of vegetables.
Nutrient dense blends support nutrition and overall health.
Added adaptogens improve cognitive functions and mental clarity.
Cucumber mint flavored and the best tasting veggies on the block! Easily mix into ice cold water or your favorite smoothies.
Each batch of BSCG Certified Drug Free products are tested and free of prohibited substances.
FAQ
Veggies is a convenient way to sip down your daily dose of vitamins and vegetables. Our nutrient dense formula supports your immune, digestive, and cognitive functions.
Mix one serving of Veggies with 8-16oz. of ice cold water everyday.
We recommend stacking Veggies with our Multi, Shrooms, and Gut Health supplements. Multi is formulated with 15 essential vitamins and minerals to support your immune, cardiovascular, and cognitive function to strengthen your immune system and optimize your performance. Shrooms improve mental functions, increase oxygen utilization, delay the onset of fatigue, boost athletic performance, and increase ATP production. Gut Health probiotics support healthy gut flora, improve digestion and nutrient absorption, and support your overall immune system.
Yes! Our Veggies are BSCG certified and tested for banned substances.

The BSCG Certified Drug Free® program provides assurance that dietary supplements, natural products, cosmetics, medical devices, or other products are free of banned substances and other drug contaminants that can lead to health concerns or positive drug tests. As part of the program, finished product batches are tested for drugs on the WADA Prohibited List and other banned substance lists in sport as well as prescription, over-the-counter, and illicit drugs not banned in sport.

The BSCG Certified Drug Free® program offers drug testing security to athletes and professionals across the spectrum of WADA, NFL, MLB, NHL, NBA, WNBA, PGA, LPGA, MLS, CFL, ATP, WTA, FIFA, FINA, AFL, NRL, NASCAR, UFC, CrossFit, NCAA, military, first responder, and other workplace drug testing programs..
Total 5 star reviews: 106
Total 4 star reviews: 5
Total 3 star reviews: 0
Total 2 star reviews: 0
Total 1 star reviews: 0
100%
would recommend this product
Customer-uploaded media carousel. Press left and right arrows to navigate. Press space or enter to open more details.
Slide 1 selected
JP

8 months ago

F#$&ing get it!

I gotta say, for the short amount of time I've been taking this…….I can tell a difference. Digestion and energy levels have improved DRASTICALLY. Tastes fine by itself but I like it mixed with Reds. I highly recommend buying them both, you won't regret it.

SM

3 months ago

Daily Veggies

This ATH Veggies powder offers a refreshing twist to your daily dose of nutrients. With a unique combination of flavors, it provides a refreshing and invigorating experience. Packed with all the essential nutrients you need from greens, this powder makes maintaining a healthy diet easier and more enjoyable. The subtle mint and cucumber notes add a delightful freshness, making it a great addition to your morning routine. If you're looking for a convenient way to boost your nutrient intake, the mint cucumber greens powder might just become your new favorite wellness companion

SG

Saint G.

Verified Reviewer

11 months ago

Veggies + Reds

Buggah is mean and taste is pretty cherreh. As for the nutritional benefits, i'm glad I got this an the reds. Just in time for the flu season. It's been keeping me healthy and energized through the winter. Mahalo ATH

Bobby O.

1 year ago

Best Tasting Greens

Easily the best tasting veggies/greens drink out there, my go to drink in the morning

Malia G.

3 years ago

Stoked I found Ath!!

Just got my greens & I highly recommend it. The flavor is not over powering, but clean & refreshing. Super easy to drink! Will definitely be a staple in my hale!!

A

ATH

3 years ago

This made our day Malia!

Morning GREENS!

I've been drinking GREENS every morning for breakfast. At first I was skeptical with the flavor... but I looove it! I'm going to need to place my next order soon! Definitely a great way to start my day! Mahalo ATH! 💪

A

ATH

1 year ago

Stoked! We looove you looove it!

Nicole B.

1 year ago

MY MORNING STAPLE

No doubt, the BEST tasting greens powder I've ever had. No more chugging down nasty clumps of powder at the bottom of my shaker! These veggies mix super easy and taste great with just water. I take them every morning for a healthy start to my day. BONUS...it has adaptogens to clear your morning brain fog!

Refreshing!

I can't juice veggies everyday. Who has time for that? Greens has been a daily stable ever since I tried it. It tastes great and is refreshing!

A

ATH

1 year ago

Work smarter not harder!! Thanks Edward for the support!

Melissa

3 years ago

THE BEST GREENS

I absolutely love the ATH GREENS! I've been looking for a quality green supplement and finally found! Not only are the ingredients legit but the taste is great which has been really hard for me to find! Very pleased and will continue to buy ATH products!!

A

ATH

3 years ago

Thanks Melissa! We're very pleased you'll continue to buy ATH products!

Great product

I've been drinking Greens every morning for the past 2 weeks. Surprisingly tastes good and for a greens blend AND is very affordable. I would definitely recommend this product to anyone trying to get more greens in their diet.

A

ATH

1 year ago

Glad you love the Greens as much as we do Mary!
Reviews Loaded
Reviews Added
---
ADD A
1-PACK ($39.95 EACH) / CUCUMBER MINT